Ortec Finance, a market-leading provider of technology and solutions for risk and return management, has a team of 275 experts across Rotterdam, Amsterdam, Canada, Hong Kong, Switzerland and the UK.
We design, build and deliver high-quality software models for asset-liability management, ex-ante and ex-post risk management, performance measurement and risk attribution, and financial planning. Our clients are market leaders in the field of pensions, sovereign and private wealth, insurance, and asset management. Municipalities and housing associations also form part of our customer base.
We also design, build and resolve solutions for Goal-based Financial Planning and Goal-based Wealth Planning for financial service providers.
Goal-based planning with OPAL platform
Ortec Finance offers an investment decision and goal-based organisation support tool through the OPAL platform, which meets diverse business model requirements and a vast array of virtual advice plans.
The platform simplifies each stage of a goal-based consultative process, from a consumer intake unit and risk-profiling tool to virtual consumer reporting and proactive monitoring.
Our solutions use analyses that consider all possibilities to help our advisors and customers better comprehend their options. Coherent visual aids highlight the existing position and consequences of investment decisions, alterations in a consumer's financial state and market developments, on the prospect of reaching financial goals.
OPAL solutions and types of planning
OPAL solutions vary from holistic financial planning to sophisticated wealth planning. Both units allow commercial organisations to translate clients' personal goals into an ideal monetary plan, with the ability to monitor set objectives over time. In wealth planning, the definition of an optimal investment portfolio is the focal aim.
The OPAL financial planning unit also provides a module in cash flow planning, which offers a universal view of the consumer situation, addressing risks from investment and income. OPAL wealth / financial planning can serve as two single units or as one fully cohesive solution.
Advisers and customers can reliably capture, measure and communicate risk and return through OPAL platform, as well as act in line with modern regulatory frameworks. The client-centric attitude also increases the chance of meeting the expectations of the client, which has a demonstrated positive effect on commercial retention.
Industry-led solutions for goal-based wealth and financial preparation
The OPAL platform is in effect in various countries. Its provides numerous currencies and language packages, as well as country-specific products.
Scalable solutions for every advice channel
OPAL goal-based planning offers a wide variety of virtual advice schemes, as well as capability for diverse business models. The programme supports financial assistance using advanced application programming interfaces (API) and a contemporary graphical user interface.
Advanced APIs for integration, optimisation and calculation
The OPAL platform offers a calculation engine through three API units presented in a private Cloud or on-site. The modules include financial planning, wealth planning and optimiser and automated device, and are aimed towards calculation, optimisation and integration.
Institutional-grade economic scenarios
The OPAL engine offers access to Ortec Finance's Dynamic Scenario Generator, an innovative stochastic projection engine that produces institutional-grade everyday financial scenarios, which reflect potential future advances and are constructed upon sophisticated analysis of past behaviour.
Combined cash flow and wealth planning
As well as providing information on present and future cash flow situations, OPAL also distinguishes itself from all other financial preparation tools through the integration of the effect of investment threats on the understanding of financial income goals.
24 / 7 monitoring, alerts and calls for action
The OPAL platform automatically oversees and controls the customer's financial state and goals, providing non-stop around-the-clock monitoring of all aspects involved in ideal client management.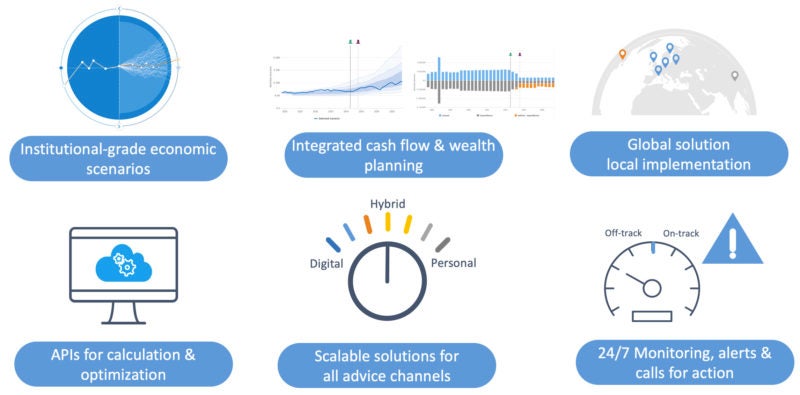 Customer testimonials
Insinger Gilissen said: "We appreciate that Ortec Finance positions itself as an independent party that also dares to pose critical questions about our governance, investment policy, and how we guarantee good risk management."
Munnypot COO Frankie Mendoza said: "Ortec Finance offers a dynamic forecasting solution backed up by quality and professional personnel."
VisualVest co-founder and CEO Olaf Zeitnitz said: "From the beginning, Ortec Finance has offered a client-oriented approach not only during phases of product implementation but also with expertise in scenario analysis and client targeting in wealth and financial planning."
PGGM said: "Ortec Finance provides the calculation engine OPAL that brings together all pension entitlements (state pension, 2nd and 3rd pillar), salaries and property (house, savings and investments), and which provides insight into the net disposable income of the participant or the household."
Triodos Bank private banking director Albert van Zadelhoff said: "With the OPAL-platform, we offer a framework for the client-central advisory process. This framework provides a consistent investment experience, which meets the latest regulations and leads to satisfied clients."
About Ortec Finance
Ortec Finance is the leading provider of risk and returns management technologies and solutions.
We aim to enable people to manage the complexity of investment decisions by delivering leading technologies for investment decision-making to financial institutions worldwide.
Our strength lies in an effective combination of advanced models, innovative technology and in-depth market knowledge. This combination of skills and expertise supports investment professionals in achieving a better risk-return ratio and better results.
Headquartered in Rotterdam, Ortec Finance has offices in Amsterdam, London, Toronto, Hong Kong and Zurich.
20+ countries represented
500+ customers
96% retention rate
Client-managed assets totalling €3 trillion