Cybersprint detects online risks and provides real-time and actionable insights regarding cyber threats. By making the invisible vulnerabilities visible, we contribute to the protection of companies worldwide.
Cybersprint developed a unique Digital Risk Monitoring platform which enables organisations to get insight into their entire online footprint. The platform automatically reveals all online entry points related to a brand, by simply entering the name of the brand or organisation. Some may be known to the organisation but forgotten over the course of time. Others could be unknown hostile entry points, causing an even greater risk. For instance, phishing websites, abusing the brand name with the purpose to steal personal data from trusted clients.
We map the entire digital attack surface and discover the online vulnerabilities. Our Digital Risk Monitoring platform continuously detects cyber risks on Web, Mobile Apps, Social Media, Networks, Internet of Things (IoT) and even the Dark Web. This way our clients can control their online footprint, protect themselves from current cyber threats and stay ahead of cyber criminals.
By revealing cyber security issues and initiating remedial actions, the digital risk monitoring platform actively contributes to the protection of organisations, employees and international reputation of businesses.
Digital Risk Monitoring as a solution
Cybersprint's Digital Risk Monitoring platform is designed to help protect a client's online environment, their employees, their brand and reputation and the personal data collected by the organisation.
It enables organisations to timely identify and mitigate vulnerabilities that are putting them at risk.
We help to act and protect against:
• Phishing: kill phishing before it starts
• Data breaches and password leaks: insight into what hackers are setting up
• CEO Fraud: 24/7 social media monitoring and sentiment analysis
• Fake apps and TAN interception: screening mobile apps
• Hacking: track attacker activities and monitor the organisation's entire attack surface
• Supply and vendor chain risks: insight into digital risks caused by third-parties
Acquisition risks: cyber due-diligence in mergers and acquisitions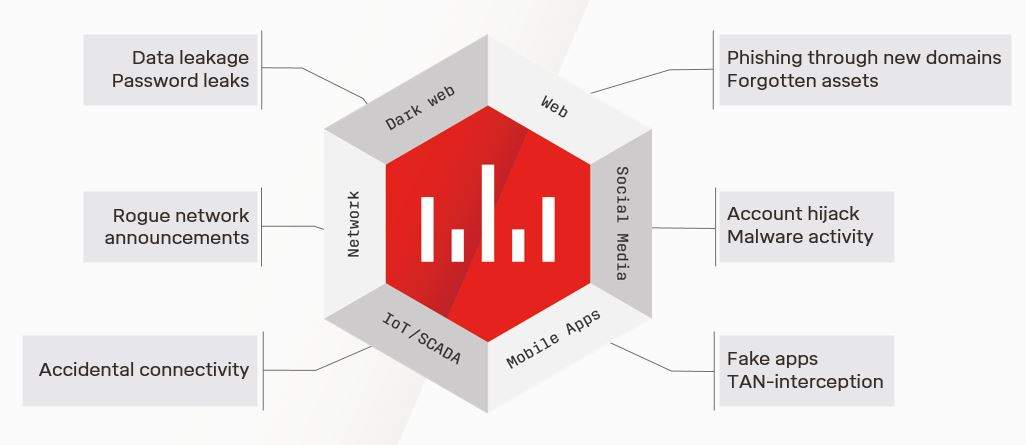 Manage entire online footprint
Preventing cyber attacks via proactive detection and mitigation of risks is relatively cheap compared to the costs of resolving the damage of an active incident.
The number of organisations with online activities is growing fast as it eases communicating with target groups and expanding commercial activities. Therefore the so-called online footprint is also growing and needs to be secured to limit the risk for reputational damage or brand abuse.
Cybersprint identifies the entire online footprint real-time and uncovers vulnerable digital entry points, used by cyber criminals to attack. This will enable the organisation to stay ahead of possible cyber incidents.
Automated cyber risk analysis
An extensive range of techniques is integrated and combined in the automated digital risk monitoring platform. Actually, it uses many of the same techniques hackers use when searching for online vulnerabilities. An important difference being, our platform uses artificial intelligence (AI), machine learning, data visualisation and Big Data to work faster than hackers and to stay ahead of cyber criminals.
Our digital risk monitoring platform helps IT security teams replace time-consuming manual processes with smart and more efficient methods to secure their business.
Strategic security information
Our state-of-the-art platform provides extensive contextual information, including advice on remedial actions. This allows identifying, analysing and responding to risk factors. Advanced data visualisations, the monitoring of many combined online channels and the use of high-end techniques, makes that our platform provides clear insights for corporate management, and supports both management and IT security.
'Making the invisible visible'
Approximately 70% of our clients discovered that more than 20% of their online attack surface was hidden and not visible to the organisation itself. These invisibilities create the biggest risks for security issues.
Quick cyber threat scan
Start a free quickscan of your brand or organisation and get insight into the current cyber threats of your organisation using the demo link under our Contact Details.
About Cybersprint
Cybersprint was founded in The Netherlands, where the amount of active internet users is extremely high compared to other European countries. The Netherlands also ranks above the EU average when it comes to adopting new technologies.
We take pride in the fact that in the last three years we have built an impressive customer base. As we are the only company in Europe to offer a platform with these unique features, we supply our services to multiple big organisations, including globally active banks, insurance companies, governments, large municipalities and critical infrastructure companies.
Cybersprint was established by Pieter Jansen with the ambition to help organisations in mapping their entire online footprint, by automating ethical hacking skills. With these techniques we developed new possibilities 'to make the internet a safer place' and also proactively protect the online environment of organisations. Our dedicated team of developers and security analysts continuously optimise the platform and add new functionalities based on our customer-driven roadmap.
Cybersprint is an active member of the leading European security cluster The Hague Security Delta.