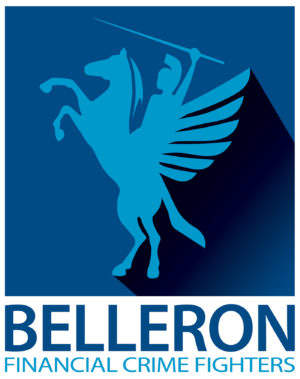 Belleron is a trusted solution pioneer of defences against financial crime and wide-ranging cyber-attacks. The company helps fight large-scale, difficult-to-detect financial fraud and deals with unknown innovation threats emerging from PSD2 and Open Banking.
We safeguard society's confidence in financial institutions and protect people's finances in their daily lives.
Belleron was founded in 2012 by a group of seasoned financial crime, compliance and cybersecurity entrepreneurs. We have more than 25 subject matter experts deployed in Europe, the US and the Middle East in helping financial institutions fight crime and implement proven risk management solutions.
SECURE® – a proven risk management methodology
SECURE® is a method for financial institutions to create a risk-based approach to mitigate financial crimes such as anti-money laundering (AML), fraud, know your customer (KYC) and customer due diligence (CDD).
Following the SECURE® process ensures transaction monitoring systems (TMS) fit the complete set of controls the bank has in the financial crime area. This leads to detection systems covering the identified risks, with optimal hit-rates, using traditional rule sets, peer grouping and even trained machine learning algorithms.
Belleron uses the SECURE® method to design and build detection configurations in various detection tools. It also uses SECURE® to audit the financial crime defences of financial institutions
CAPTURE® – an intelligent defence system for banks
Most banks put a tremendous amount of effort in preventing identity theft, financial fraud, money laundering, terrorist financing and other risk-sensitive customer activities.
The question is if these account-centric detection systems are relevant for detecting financial large-scale attacks, aimed at disrupting the financial system. The current systems out there are always limited by operational teams; but more importantly, they're biased because they're designed with previous attacks and modus operandi in mind.
CAPTURE® senses and monitors millions of transactions, variables and trends in real-time, providing analyses of how they interact and correlate.
CAPTURE® is powered by machine learning models we developed in the field. The models oversee the bank's complete network from a top-down perspective and provide real-time insights when an attack occurs. The systems also create insight into the open innovation threats that will occur when implementing new innovative solutions.
FISP – Belleron Financial Intelligence Sharing Programme
Sharing non-competitive attack intelligence is a new way of combating financial crime, terrorism and open innovation threats.
Our financial intelligence sharing (FISP) programme connects you with other CAPTURE® customers on a constant basis to discuss recent findings and share success stories, all hosted by Belleron consultants. Sharing and receiving attack intelligence will make your financial institution more resilient in the long-term.

Most banks put a tremendous effort in preventing identity theft, financial fraud, money laundering, terrorist financing and other risk sensitive...
Belleron BV
Albert Einsteinweg 4
8218 NH, Lelystad
The Netherlands
+ 31 85 4019799