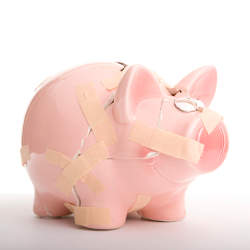 Marshaling the power of digital technology and the penchant for savings in tough economic times, a host of players are making savings cool again.
Savings accounts with technological bells and whistles are all the rage these days, as Americans wounded by the recession have rekindled interest in ways to increase their savings rates.
Meeting them halfway, a number of products are emerging that combine online personal financial management tools with mobile alerts and rewards designed to encourage thriftiness with a digital edge.
It might seem a bit counterintuitive – financial services companies encouraging consumers to put away their credit cards and shelve their checkbooks – but it is a natural tie to online PFM tools that thus far have failed to gain significant traction.
App developers are getting into the savings game as well. ImpulseSave, a Cambridge, Massachusetts-based startup company, has created a mobile app called Danger Zone that uses alerts to stymie impulse purchases that derail savings plans.
It's quite simple, really: consumers use their existing checking accounts to create a savings account backed by Leader Bank NA, a nationally chartered bank working with ImpulseSave.
They then download the app, which awaits the next shopping trip. When the consumer sees an item they are tempted by, the app asks them whether they wouldn't be better of saving the money.
If guilt prevails, the user can tap on the ImpulseSave mobile app and instantly send the amount into their savings account instead.
ImpulseSave also works through SMS text, the web and Instagram.
The company claims it's already saving users more than $3,000 annually, and added that 40 percent of its user base maintains their savings after reaching their goals.
Another app, Grip, the creation of Iowa-based Bann LLC, links location-based data with upcoming bills, historical spending patterns, and a host of other data points to paint a picture of how each purchase effects the user's overall financial life.
Show the Grip app just about any retail item, and it will produce an impact statement of sorts, offering a moment of truth that gives the consumer a moment to reconsider the purchase. Grip also includes a wish list feature that lets consumers set goals to achieve their desired purchases in the future.
Grip automatically pulls down a user's daily transactions and reports it back into the app several times a day. When a user launches the app, Grip will retrieve the most recent transactions that may have posted since the app was last opened.
The app is also going out and pulling in any of the other accounts that a user has set up, including credit cards and accounts at other financial institutions. All balances and transactions from these accounts will be pulled down and reported in the app.
Grip's data infrastructure is always monitoring a user's account for updated information in order to push an alert to the user. A new alert could be triggered by a recent posted transaction, a change in balance, an upcoming or past due bill or even a notification sent from their primary financial institution.
On the bank side, U.S. Bancorp's S.T.A.R.T. product is emblematic of the new wave of savings products hitting the market.
S.T.A.R.T., which stands for Savings Today and Rewards Tomorrow, is a savings account that offers customers $50 Visa reward cards when they reach $1,000 and another $50 if they maintain the balance for a year.
The key component is a requirement that customers set up recurring transfers into their savings account.
The transfers can be set up as monthly deposits or consumers can set a nominal amount to be sent to the savings account every time they make a debit or credit card purchase, "topping off" each expenditure with a small savings deposit as well.
An online savings too allows S.T.A.R.T. customers to set goals, measure their progress and adjust their deposits in real time. S.T.A.R.T. reports that as of September, the program had generated $3.4 billion in savings balances.