It seems like another world. In 1981, the then big four UK retail banks – NatWest, Barclays, Midland and Lloyds – operated a combined UK branch network of 11,400 outlets.
NatWest was some 19 years away from being acquired by Royal Bank of Scotland and boasted a network of 3,370 branches, ahead of Barclays with 3,014.
Midland, destined to become part of HSBC in 1992, rebranded under its parent moniker in 1999 and ranked third in 1981 with 2,705, ahead of Lloyds with 2,311.
Jump forward to the start of 2018 and Barclays ranks first by brand with 1,208 branches. NatWest has closed four in five of its branches, shrinking from 3,370 to 655 outlets. Midland/HSBC has closed over 2,000 branches, or three out of every four outlets, reducing to 625 branches. Lloyds has closed a relatively modest 60% of its branches, reducing from 2,311 then to 967 now.
The ownership structure of the traditional big four has undergone a radical change. Back in 1981, Barclays owned a 35% stake in Bank of Scotland, Midland owned the Clydesdale Bank, while Lloyds held a 16% stake in RBS.
The three Scottish brands – RBS, Bank of Scotland and Clydesdale – have between them closed more than three-quarters of their Scotland-based branches since 1981, almost 1,200 branches in total.
In Scotland, RBS's branch count is down from 606 to 89, with Bank of Scotland's shrinking from 567 to 206. Meantime, Clydesdale has closed more than 80% of its branches, reducing to 71 from 376.
TSB
In 1981, the TSB was in the process of bringing together around 20 regional savings institutions and developing a nationwide branch network capable of competing with the big four. TSB operated 1,661 branches in 1981, against 559 today.
The Cooperative Bank has closed nine in ten of its branches since 1981, with a network today of 95 branches against 880 in 1981. By contrast, Clydesdale Bank's sister brand, Yorkshire Bank, has closed a mere 50% of its branches in the past 37 years, down from 194 in 1981 to 99 today.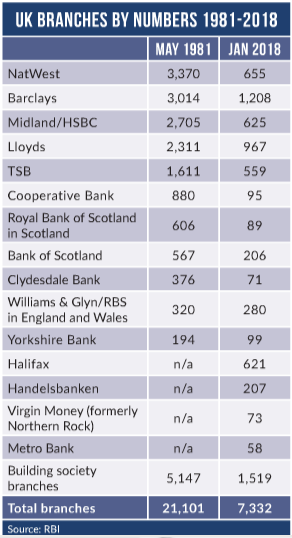 Building societies
In 1981 there were around 250 building societies in the UK, against 44 today. Building society branch numbers in the UK in 1981 totalled 5,147, against 1,519 today.
Legislation in 1986 enabled building societies to offer current accounts and SME loans, and to demutualise. The second-largest society at the time, Abbey National, converted to a bank in July 1989 and was subsequently acquired by Santander in 2004, rebranding to its parent group in January 2010.
Other significant demutualisations included: Cheltenham & Gloucester, acquired by Lloyds in 1995; Alliance & Leicester in 1997, later acquired by Santander in 2008; Woolwich converted to a bank in 1997 and was acquired by Barclays in 2000; Northern Rock and Bristol & West also converted to banks in 1997, the latter being acquired by Bank of Ireland. Santander now has 818 branches, comprising former Abbey, Alliance & Leicester and Bradford & Bingley outlets; the latter converted to a bank in 2000, and was acquired by Santander in 2008.
The biggest demutualisation was the country's biggest society, Halifax. It converted to a bank in 1997, merged with Bank of Scotland in 2001 to form the ill-fated HBOS, and was acquired by Lloyds in 2009. The country's largest society today, Nationwide, accounts for almost half of all society branches, with a network of 680 units; other notable society branch networks include Coventry (87), Yorkshire (70), Skipton (62), Nottingham (60) and Leeds (53).
William & Glyn – RBS
The branch network least affected by closures since RBI first published is the one most likely to attract press attention in coming years: RBS's branch network in England and Wales.
Branded as Williams & Glyn (W&G), the network comprised 320 outlets in 1981; today the branches are branded as RBS and total around 280 units. Following the crisis, RBS tried – and very publicly and humiliatingly failed – to spin off the branches under a plan that would have resurrected the W&G brand.
As recently as 2016, RBS planned to list W&G on the London Stock Exchange, with a then 307-strong branch network serving about 1.4 million retail customers and more than 200,000 SME customers. It is difficult to see RBS wanting to rebrand the existing network – around 280 Royal Bank-branded branches in England and Wales – as NatWest.