Bank of America has scooped the award for Global Retail Bank of the Year. Douglas Blakey from the 33rd annual Retail Banker International (RBI) Global Awards
Over 100 financial institutions participated and a record number of submissions were received across the 29 Awards categories at the 2018 RBI Global Retail Banking Awards.
It was a good night for Emirates NBD with three awards and for Royal Bank of Canada with two wins.
The roll call of honour is as follows:
African Retail Bank of the Year
Shortlisted were:
Capitec, First National, Standard Bank and Standard Chartered
The winning bank enjoyed a strong 2017 with headline earnings up by 14%;
Return on equity rose by 2 percentage points to 17%
Cost income ratio successfully reduced, by 60 basis points
Digital banking channel highlights included a rise in mobile banking volumes up by 32% in 2017 to hit 2.2 million users
The winning bank is Standard Bank
North American Retail Bank of the Year
Shortlisted were:
Bank of America, Citigroup, Chase and Royal Bank of Canada
The winning bank in 2017 had another record year – the most profitable public company in its domestic market and North America's best performing large bank based on a variety of financial metrics.
A group ROE of 17%, up 70 basis points – retail banking ROE of 28.3%
Provisions for credit losses of only 21 basis points – down by 8 bps
Retail banking earnings grew by 11% in 2017,
In 2017, it spent more than $3 billion on technology – digital highlights include more than 84% per cent of its retail transactions are performed by clients in a self-serve channel
The winner is Royal Bank of Canada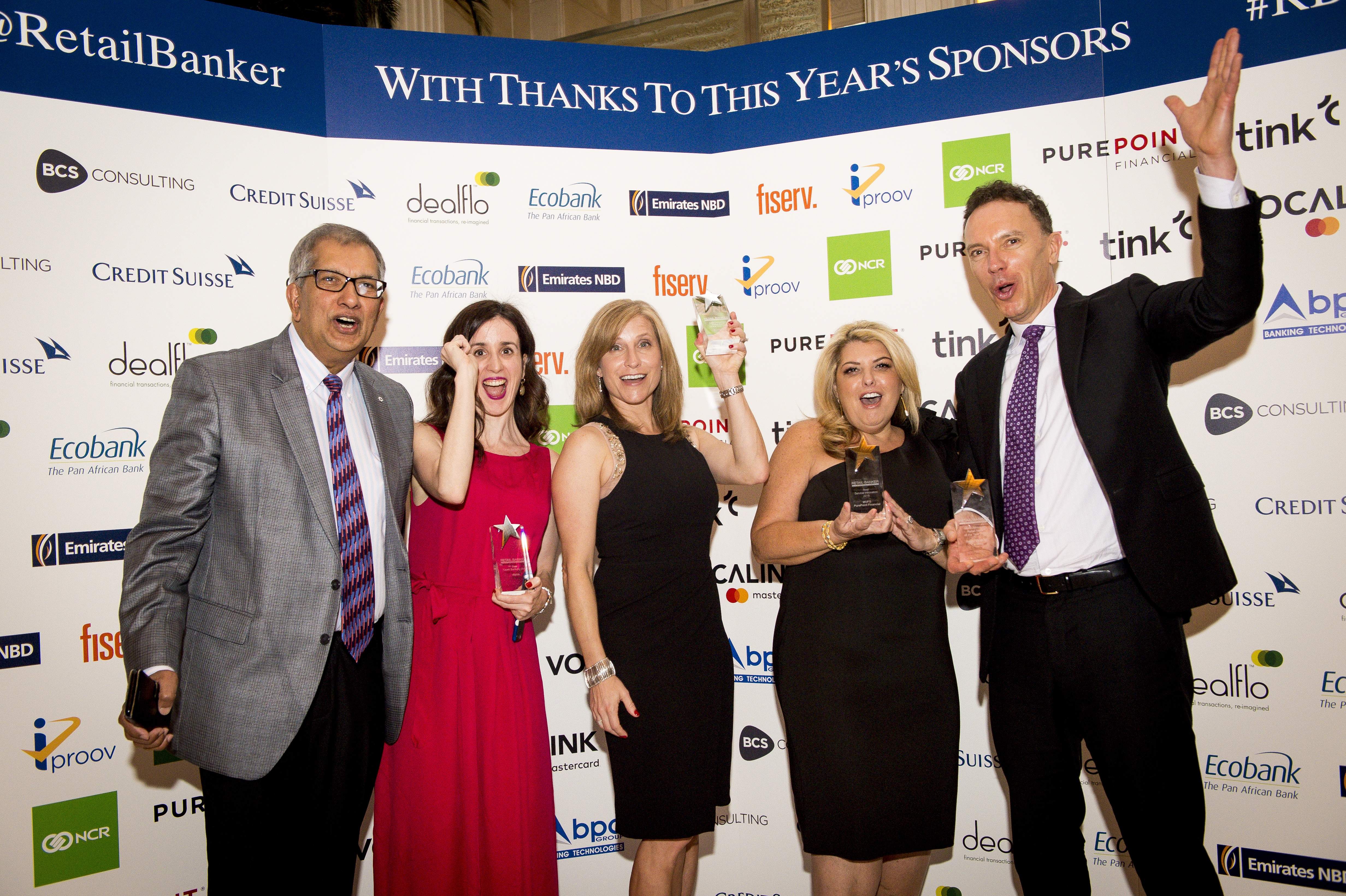 European Retail Bank of the Year
Shortlisted were:
ING, IntesaSanPaolo, Nordea and Santander
The winning bank's acquisition of Banco Popular was one of the most significant M&A deals; digital successes includes a 24% rise in digital customers across the group to 27.3 million; its cost-income ratio in the mid40s remains one of the most competitive in its peer group; and its Openbank digital bank subsidiary is up to over 1 million customers.
 The winner is Santander
Middle East Retail Bank of the Year
Shortlisted: Arab Bank, Emirates NBD, Hapoalim and Qatar National Bank
Despite challenging local environment, the winning bank had a record 2017 – net profit rose by 15%. In digital banking-it is simply world class. In 2017 it completed a five year digital transformation programme.
It now offers paperless loans and account openings, voice recognition, is a leader in the use of AI and blockchain, and it launched digital sub-brand Liv., targeted at millennials.
The winner is Emirates NBD
Latin American Retail Bank of the Year
Shortlisted: Banco do Brasil, BBVA, Santander and Scotiabank
With a strong focus on Mexico, Peru, Chile and Colombia the winning bank delivered record earnings in 2017 up 15% year-on-year ; and strong market share gains in Chile.
Its Digital Factory Network, is now fully-operational in Mexico, Peru, Chile and Colombia as well as Canada and represents a successful key pillar of the bank's digital strategy.
The winning bank is Scotiabank
Asia Pacific Retail Bank of the Year
Shortlisted: DBS, Maybank, State Bank of India and Standard Chartered
Record full-year earnings for fiscal 2017 – impressive market share gains, a growing worldwide reputation for best-in-class customer service and digital banking including the launch of the world's largest banking API platform. Other digital highlights included phenomenal customer acquisition at its digibank subsidiary in India and Indonesia.
The winner is DBS
Best Branch Strategy
Shortlisted: CIBC, DBS, ICICI and Lloyds
The winning bank has a branch network of around 1,076 outlets, down by only 4% since 2015 and while over 80% of its transactions are already completed via digital channels -expected to reach 90%+ by 2020 – and digital sales increased from 12% in 2016 to 17% in 2017, it is simultaneously transforming its branch network.
The bank kicked off a complete redesign of its smaller format branches, to make its delivery a more personal and interactive experience, with open, modern, inviting spaces, the new format branches leverage the bank's digital innovations.
The bank's branch investments are driving net sales growth – around 21% on average ahead six months after successful branch transformation.
None of its rival banks has undertaken a full redesign on such a scale and already around 30% of its urban network has been transformed.
The winner is CIBC
Best Use of Online Banking
Shortlisted: Emirates NBD, Synchrony Bank and USAA
The winning bank's Project Facelift is an entire renewal of its Online Banking channel and was launched in July 2017
The platform is distinct for serving more than for banking transactions, statements or campaign banners.
Every detail is the outcome of deep analysis on customer behaviour. Beyond innovative and enriched features like responsiveness, touchscreen compatibleness, and a unique single-page approach, customers enjoy a completely new digital customer experience without any friction and complexity.
Facelift also includes with Smart Insights, Personalised Saving Goals, Online Advice, FaceBanking, Personalised Design, Digital Store and Application Tracking.
The winning bank is Emirates NBD
Best Mobile Banking Strategy
Shortlisted: ICICI, PKO Poland, Royal Bank of Canada and Standard Chartered
 A tough category – any of the banks shortlisted would have been worthy winners with strong arguments in favour of all of the banks-PKO for example is consistently top ranked in app stores rankings.
RBC has a winner on its hands with its NOMI Insights and NOMI Find & Save, the first Canadian bank to offer clients personalised financial insights and a fully-automated savings service; user stat growth at ICICI has been phenomenal; but the winner for its combination of biometrics, new customer wins-80% of accounts opened are by new clients for the bank is Standard Chartered
Best Payment Innovation
Shortlisted: Ecobank, ICICI, Israel Discount Bank and Standard Chartered
The winning bank launched a simple, quick P2P money transfer service to its customers, based on voice commands using Apple's Siri service. The payment innovation has not only smashed its internal uptake targets, it has enhanced customer experience and increased digital engagement levels, and is a first-in-its local-market, and successfully empowered the bank's digital brand.
The winner is Israel Discount Bank
Best Use of Digital Marketing and Social Media
Shortlisted: Capital One, Citigroup, Emirates NBD and Nationwide
With its series of viral videos, the winning institution has brought itself into the forefront of the public mindset. Gathering over a million views in three months, just on its official channel, has shown how popular this marketing campaign has been. The winner's "Voices " campaign has been a huge hit and smashed all of its key business targets
The winner is Nationwide 
Best Use of Data Analytics
Shortlisted: Barclays, Capital One, ICICI and NatWest
The winning bank shared with judges a number of key banking metrics highlighting how optimisation of data analytics has all combined to boost new client wins. In addition it has boosted a significant increase in new client onboarding as well as increasing cross sell and upsell ratios. At the same time the bank has successfully used predictive analytics to improve delinquency and loan loss rates
The winner is ICICI
Best Customer Facing Technology
Shortlisted: Arion Bank, ICICI, Israel Discount Bank and Royal Bank of Canada
The winning bank is recognised for its MyAdvisor facility a new digitally-enabled investment advice experience that helps clients reach their financial goals with the support of an advisor through the channel of their choice.
The platform includes an AI-based personalisation engine that captures the client's financial data and sends them personalized automated alerts and updates about how their investments are performing compared to the goals they set.
The personalisation engine also reminds them about talking to their advisor regularly, and uses innovation and digitisation to support the bank's branch network
While MyAdvisor has only been in the market on a limited basis since Q3/17, it has already generated strong results:
MyAdvisor has attracted 20,955 clients who have activated their personalised plan;
 4,000+ clients have completed their financial health consultations with financial experts, and
MyAdvisor clients' Assets under Management grew by 8.1% vs. 5% in the control group – a 60% net increment on the client side.
The winning bank is Royal Bank of Canada
Best Digital Strategy
Shortlisted: BBVA, Ecobank, Emirates NBD and ICICI
The winning bank's app is the only unified banking app across 33 countries in Africa which allows transactions in 18 different currencies and 4 major languages.
The judges were impressed with the huge success of its Xpress Account: a KYC-lite digital only account to improve financial inclusion. On a massive scale it has run digital marketing campaign, leveraging Google and Facebook platforms in 2017.
The winner is Ecobank
Best IT Transformation
Shortlisted: Arion Bank, ICICI, Open Bank Santander and Zions Bank
The winning bank has rolled out one of the biggest core banking projects in the US in recent times and is recognised for a very successful implementation. Inter alia, the project reduced 15 loan operation centres to two and consolidated 529 retail products into 129. The bank has boosted its wealth management and trusts revenue by 16% and reduced expenses by 5% through rationalising operations. Meantime the bank has reduced staffing by 22%.
The winner is Zions Bank
IT Innovation of the Year
Shortlisted: Arion Bank, ICICI and Nordea
In 2017, the winning bank launched its Open Banking Portal with the aim of becoming the go-to-hub for banking APIs in its region.
The portal does much more than merely comply with the regulatory requirements of PSD2.It is a future-oriented platform that will provide premium APIs to third party developers and fintechs. The bank built the platform with both external and internal developers in mind because it wanted to foster innovation within the bank as well as through collaboration with third parties.
Within 72 hours of launch, it received 300 sign-ups; within a few weeks it had received more than 700.
The project strengthens the bank's goal to continue to be a relationship bank, putting its customers first, strengthening its collaboration with fintechs and going beyond regulatory requirements by providing premium APIs which fit the changing needs of customers across all segments.
The winner is Nordea
Product Innovation of the Year
Shortlisted: Credit Suisse, Ecobank and Emirates NBD
The winning bank launched a new digital moneybox 'Digipigi' a fun way for children to learn about cash and digital money. With the Digipigi Kids app children can easily set their own personal saving goals and record and track their savings
It is also the first Banking Product based on IoT (Internet of Things) technology worldwide. Together with Digipigi, a new banking product 'Viva Kids' was launched, initially for the Swiss market with tremendous success, selling over 10,000 units within the first 2 months, 60% of the clients being new to the bank, increasing its market share by 50%, this in the supposedly 'overbanked' Swiss market.
The winner is Credit Suisse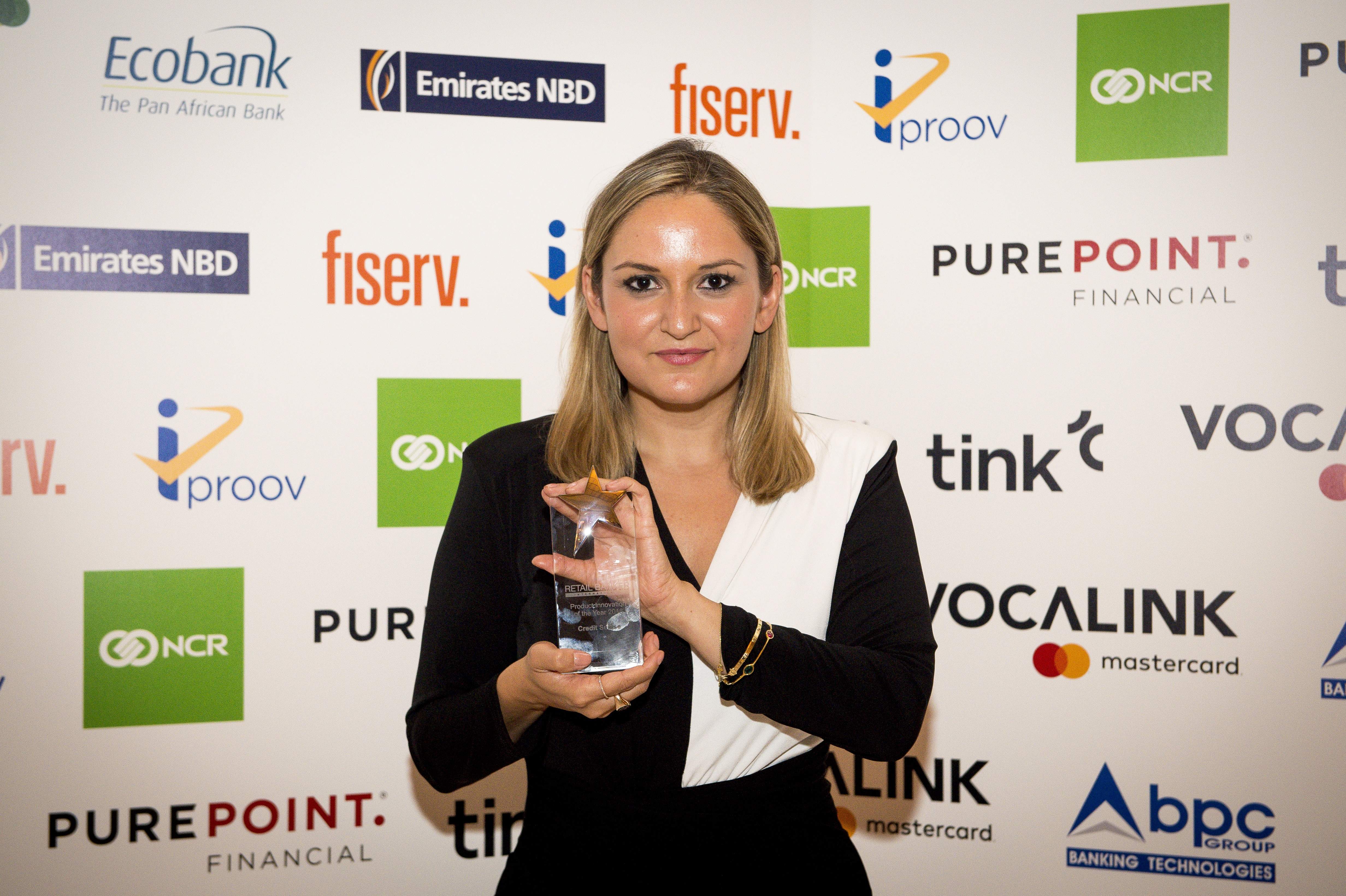 Most Disruptive Innovation of the Year
Shortlisted: Arion Bank, Emirates NBD, ICICI and Starling Bank
A radical overhaul of its end-to-end mortgage process and a customer journey redesign has resulted in the winning bank increasing its mortgage lending by 100% in 2017 and its net promoter score in just one year rose from minus 2 to plus 32.
At the same time, its two local rivals mortgage volumes have been more or less stagnant which has led to a big increase in market share in mortgages for the winning bank Arion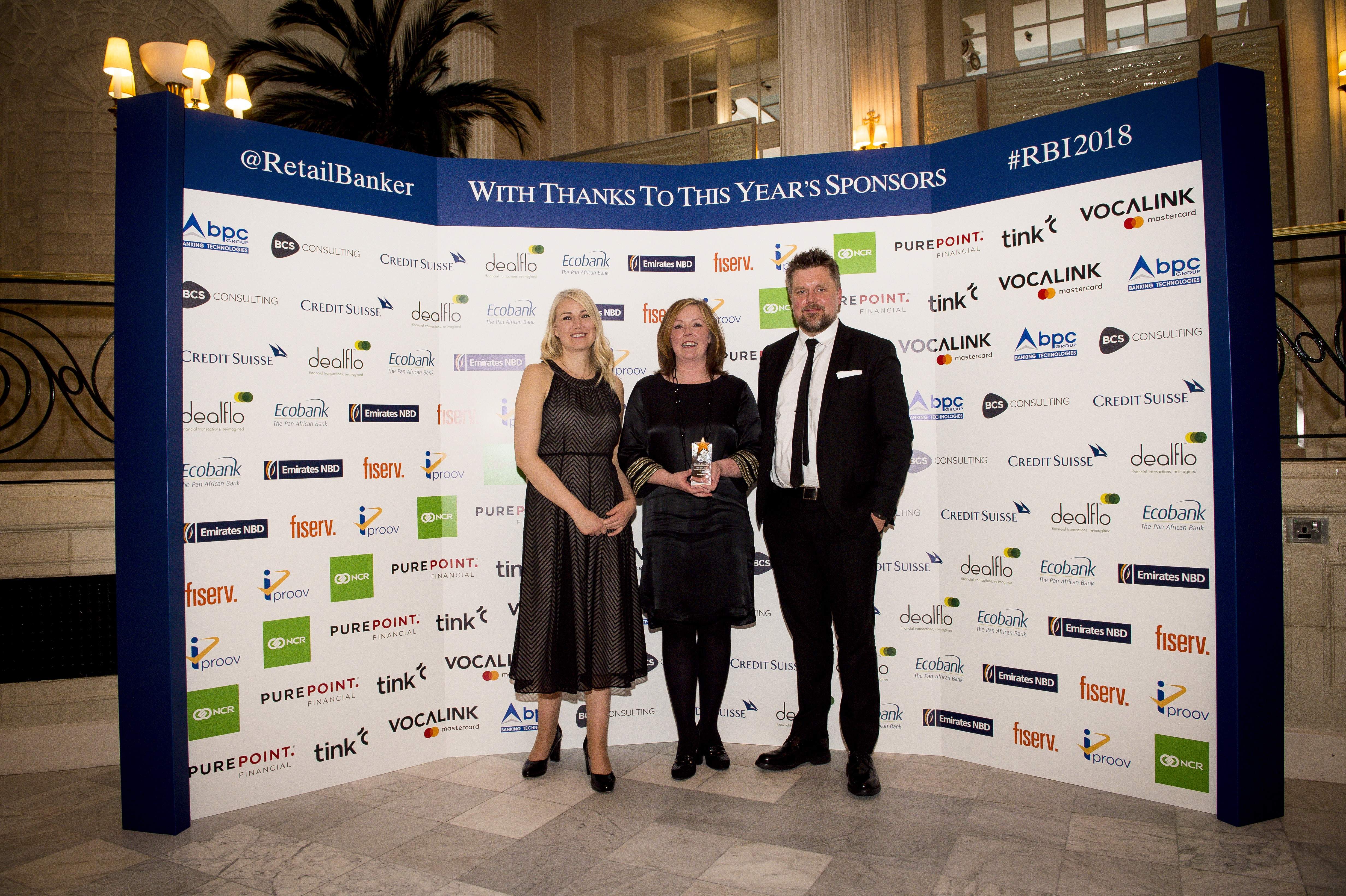 Best Non-Bank Competitor
Shortlisted: Circle, Moneybox, Revolut and Yolt
The past year has been an exciting and busy one for the winner. In November 2017, it hit one million users.
It now features 130 currencies (including 3 cryptocurrencies) and in March of this year it launched its pioneering single-use virtual cards.
It is also the newest Unicorn.
The winner is Revolut
Banking Launch of the Year
Shortlisted: Chetwood, ClearBank and Redwood Bank
The winning bank represents a unique private-public partnership and having received its initial banking licence in April 2017 the bank's licence restrictions were removed in August – one of the fastest licence-to-launch phases of any new bank to date.
With advanced systems, service based on traditional banking values while developing strong relationships with its customers, it has already grown its team to 44 executives. The bank's brand has already established itself as a competitive player in the Best Buy price comparison websites
The winner is Redwood Bank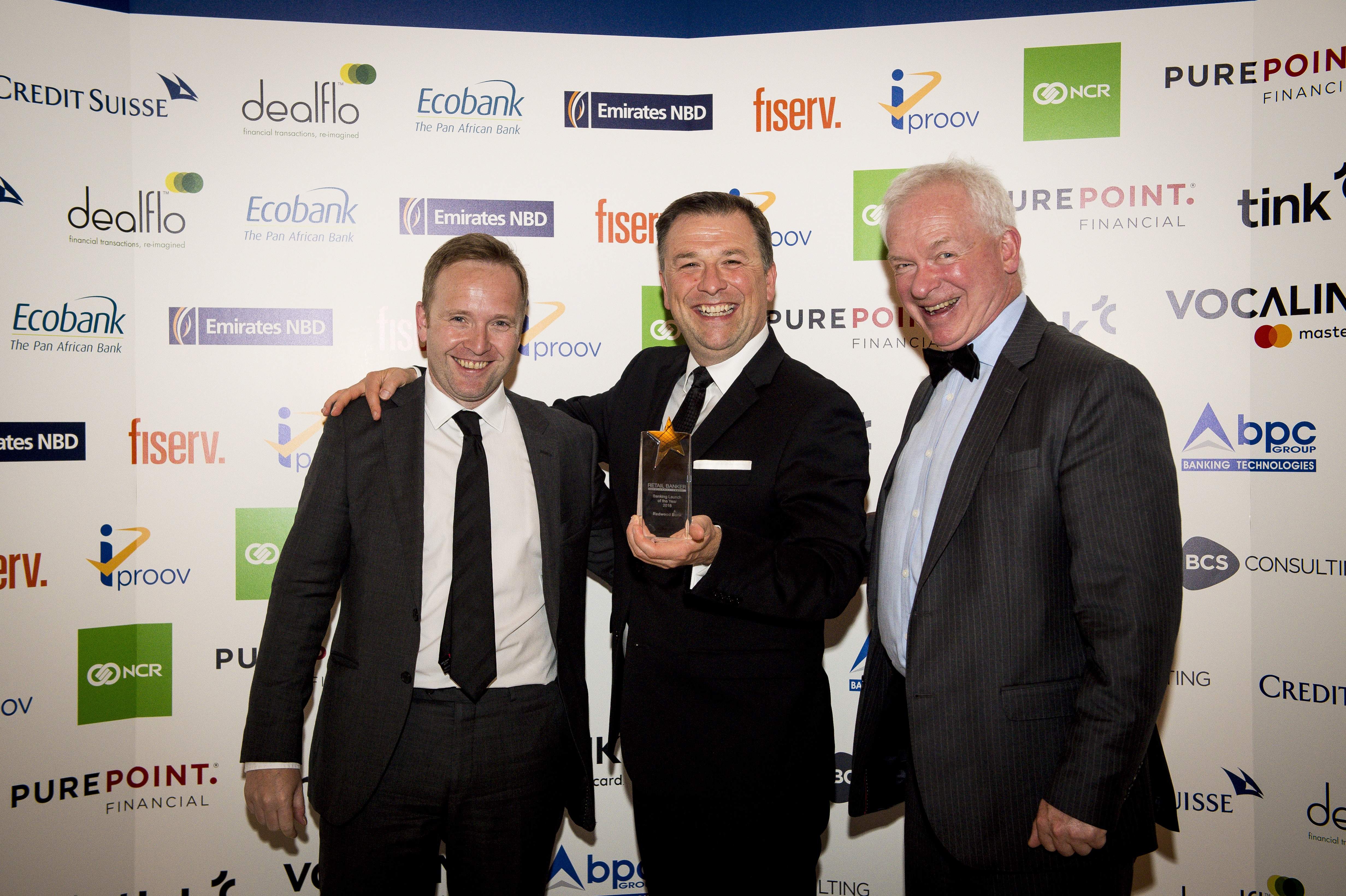 Banking Security Innovation of the Year
Shortlisted: BBVA, NatWest, Nordea and Rabobank
The winning bank is recognised for its pioneering work with Vocalink Analytics to develop, test and launch Fraud Insights, which uses AI and machine-learning techniques to identify and flag suspicious non-real time payments. 
The winner is NatWest
Best Service Innovation
Shortlisted: Arion Bank, Emirates NBD, N26 and PurePoint
The winning entry represents the best of bricks and clicks. Launched one year ago to offer the best of both worlds with accessible online banking at market-leading rates, no fees with exceptional client service, the bank's PurePoint's offering is complemented by physical locations that enable clients to get great in-person service when desired and a client support centre to service client needs via phone.
Unlike traditional bank branches, PurePoint Financial centers offer a streamlined, cashless and digital-enabled experience with beautiful décor in a relaxed setting, omitting the teller lines historically seen in banks.
The winner is MUFG for PurePoint
Excellence in Customer Centricity
Shortlisted: Emirates NBD, KBC and Metro Bank
The winning bank is recognised for an innovative solution based on blockchain technology. The integrated app was rolled out to relieve much of the administrative burden for customers when they are buying a new car. The solution is an ideal world class example of how a bank is using new technology to make its customers' lives easier.
The winner is KBC
Best Self Service Strategy
Shortlisted: AirBank, Akbank, CTBC and ING
With its new initiative of Advice and Experience branches across the Netherlands helping customers to achieve their goals in a bank branch has never been easier. In addition, its SelfBank solution has expanded into Romania after its great success in Belgium, and is now closer to achieving its self service digital model in the region without losing any of the bank's physical footprint.
The winner is ING
Best Digital Onboarding Strategy
Shortlisted: Fidor Bank, Metro Bank, N26 and National Australia Bank
The winning bank has become the first UK high street retail bank to roll out selfie technology to open current accounts online. The launch represents the seamless integration of digital and physical with debit cards available to collect in store and is already winning new customer numbers in impressive numbers.
The winner is Metro Bank
Diversity & Inclusion
Shortlisted: Bank of America, Barclays, Citi and Lloyds
In 2017 the winning bank was awarded the top spot on Stonewall's Top 100 Employer list and placed in the top five of 2018's list and the top ranked bank. In February 2018, the bank announced plans to increase the proportion of staff from black, Asian or minority ethnic backgrounds to 8% of senior management by 2020, becoming the first FTSE 100 company to set an official target.
The winner is Lloyds
Best Open Banking
Shortlisted: BBVA, HSBC and Lloyds
In 2017, the winning bank strengthened its world class reputation for innovation in general and digital banking leadership in particular with a number of notable firsts, including the launch of its API Market.
The bank is helping start-ups to transform the financial services industry in ways never before imagined.
Other highlights include its Open Talent competition, which looks to draw the latest and greatest fintech startups to the Spanish bank with the prize of funding, mentorship and an excellent global customer base.
The winner is BBVA
Global Retail Bank of the Year
The winning bank has enjoyed an outstanding 12 months
Its share price passed the symbolic $30 a share mark, a price not seen since October 2008 in the midst of the financial crisis.
It has consistently outperformed the market over the past two years as its shares almost tripled in value boosted by margin improvement and cost efficiencies. In 2017 it successfully reduced its efficiency ratio from 45% to 43%.
Other highlights included
Digital banking customer numbers rose to 34.9 million in 2017, up by 2 million;
Mobile banking customer numbers rose by 12% or 2.6 million to 24.2 million, and
3 million new accounts opened, up 17% year-on-year.
The winner is Bank of America
Retail Banker of the Year
In his role since June 2012, the RBI Retail Banker of the Year has the mandate to oversee all aspects of Emirates NBD's Retail Banking and Consumer Finance businesses, including branches, retail loans, mortgages, credit cards, wealth management, direct banking, SME, sales and marketing, as well as setting new standards in product innovation.
An outstanding inspirational leader and a visionary executive who is the main driver of the bank's regional and global achievements in retail banking, innovation and digital –
The 2018 RBI Retail Banker of the Year is General Manager, Retail Banking and Wealth Management, Emirates NBD Suvo Sarkar
The 2018 Global Retail Banking Awards winners are:
| | |
| --- | --- |
| African Retail Bank of the Year | Standard Bank |
| North American Retail Bank of the Year | Royal Bank of Canada |
| European Retail Bank of the Year | Santander |
| Middle East Retail Bank of the Year | Emirates NBD |
| Latin American Retail Bank of the Year | Scotiabank |
| Asia Pacific Retail Bank of the Year | DBS |
| Best Branch Strategy | CIBC |
| Best Use of Online Banking | Emirates NBD |
| Best Mobile Banking Strategy | Standard Chartered Korea |
| Best Payment Innovation | Israel Discount Bank |
| Best Use of Digital Marketing and Social Media | Nationwide |
| Best Use of Data Analytics | ICICI Bank |
| Best Customer Facing Technology | Royal Bank of Canada |
| Best Digital Strategy | Ecobank |
| Best IT Transformation | Zions Bank |
| IT Innovation of the Year | Nordea |
| Product Innovation of the Year | Credit Suisse |
| Most Disruptive Innovation of the Year | Arion Bank |
| Best Non-Bank Competitor | Revolut |
| Banking Launch of the Year | Redwood Bank |
| Banking Security Innovation of the Year | NatWest |
| Best Service Innovation | MUFG PurePoint Financial |
| Excellence in Customer Centricity | KBC |
| Best Self Service Strategy | ING |
| Best Digital Onboarding Strategy | Metro Bank |
| Diversity & Inclusion | Lloyds Bank |
| Best Open Banking | BBVA |
| Global Retail Bank of the Year | Bank of America |
| Retail Banker of the Year | Suvo Sarkar (Emirates NBD) |