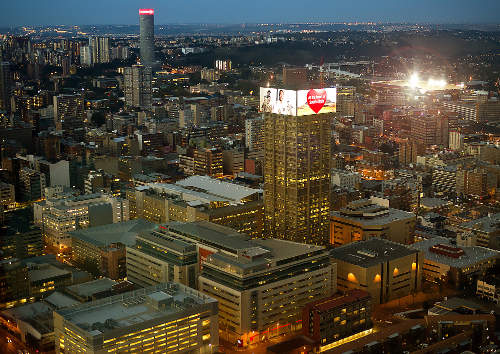 Absa has unveiled a record-breaking size screen atop Absa Towers in the same month it launched a fully functional mobile branch after a store in the Eastern Cape was destroyed by a fire. Billy Bambrough and Katy Maydon report
Absa, South African based subsidiary of Barclays, has switched on the worlds largest light emitting diode (LED) screen its headquarters Absa Towers in Johannesburg.
The LED screens, measuring 38 meters long and 17 meters high, boasts 20m LEDs and has been collectively been named 'Lumen.'
The screens are bigger than both those in Piccadilly Circus, London and in Time Square, New York.
Bobby Malabie, Absa and Barclays Africa Group executive for marketing, communications and public affairs, says: "Africa is made up of some of the most dynamic and fastest growing economies in the world. Our investment in Lumen is a vote of confidence in Johannesburg."
"Lumen is a significant step in a ten-year project." Malbie added, "No matter which realm we are active in, we will always leave things better than we found them. Supporting this notion, Lumen will become a landmark that will not only be instantly recognisable in Johannesburg, but on the world stage."
Johannesburg headquartered Absa launched its fully functional mobile bank after a branch in the Eastern Cape was destroyed by fire.
Taking just six weeks to build Absa's mobile 'Branch-on-the-Move', will serve as an emergency branch roving around the country to wherever there is need for it and requires no disassembly before being transported.
Arrie Rautenbach, head of retail markets at Absa, tells RBI: " The Branch-on-the-Move is designed to simulate the functionality of an entire bank branch in the form of a large container on wheels, that can be set up to be fully functional anywhere in the country within 24 hours of arrival.
"The Branch-on-the-Move is a fully functioning branch, with a fully fledged sales function forming part of the service offering. Thus employees can both open new accounts and service existing customers."
Absa expect that the Branch-on-the-Movewill roll up and set up shop when renovations, fire damage, water damage, construction or even ATM bombings interrupt normal branch operations.
Rautenbach says: "This service will especially be felt in remote rural villages. As we invest in our community, Branch-on-the-Move makes it possible for us to make our customers' lives easier, through a facility that addresses the financial needs of these isolated rural communities."
Rautenbach explains that Absa felt the mobile branch is necessary in South Africa due to its size and the percentage of its population still living in rural and peri-urban areas, almost 40% of the population.
He says: "Due to the substantial distances between urban and rural centres in some of the country's provinces, people living in rural areas are heavily reliant on a bank branch situated in their community. In some instances it may be the only bank in the area. Travelling to the next branch, is both time consuming and costly.
"In situations where a branch is closed due to damage or loss, it becomes essential for banking services to be restored quickly to minimise the impact. These are our most financially vulnerable communities, who rely on us to provide them with viable financial solutions."
When the mobile branch was never designed to stay in one place for a long time, although it is fitted out to comfortably accommodate staff for lengthy stay, Rautenbach explains.
"The Branch-on-the-Move was especially designed to act as a short-to-medium-term solution and was never meant to be a permanent fixture. Its design lends itself for mobility and allows Absa to ensure continuity of service to customers where its permanent operations are impacted by varied factors, such as fire damage or branch renovations.
Despite its cost saving benefits it seems unlikely that the Branch-on-the-Move will ever replace the tradition bank design in South Africa.
Rautenbach says: "We serve a diverse customer base with very specific requirements, which we address through the various customer touch points that vary from the traditional brick and mortar branch and ATMs to digital banking channels.
"Our research also indicates that the bulk of our customers show a strong preference for a traditional branch set-up to be easily accessible alongside other banking channels. This allows us to provide a holistic banking solution for our customers.
"Absa has no plans to use the current Branch-on-the-Move model as a replacement for a traditional branch business model, as it has a predetermined operational timeframe."