RBC's ties to the Caribbean go back more than a century, when merchants on Canada's Atlantic coast began to trade flour and cod for spices, sugar and rum.
The Canadian bank grew its regional presence since then and in countries like Bahamas and Barbados, it has become integral to daily economic life.
But after its 2007 acquisition of Trinidad and Tobago-based RBTT, RBC focused attention on mitigating losses and reducing costs. This included exiting certain markets and reducing its marketing presence in local communities.
"Understandably, people misinterpreted our actions as a pathway to exit the region," says Chris Ronald who was appointed Head, Caribbean banking in late 2021. "That included some of our own people."
Lesa Cruickshank-Simon, a branch manager in Tobago's capital of Scarborough, recalls how many employees used to simply focus on "what needs to be done today" because they couldn't see much beyond the next 24 hours. "There were a lot of conversations, where people didn't understand what was happening."
Earning the right to invest
Even while the Caribbean business has always been a net contributor to RBC's results, it had not always expressed a clear growth ambition, including what Ronald describes as "earning the right to invest in our future."
"If we're not able to generate a decent return, it's a lot harder to secure the resources required to grow our business and brand."
His leadership team is working to change that in large part because it sees an untapped potential in the bank, its team and the region.
Ronald readily admits the journey will take time and "it begins by focusing on our employees." He emphasises open and ongoing exchanges of information and ideas between the leadership team and colleagues, which will help build a better understanding of and, in turn, confidence in the bank's future in the region.
To help all 3,000 employees row in the same direction, each is now asked to make a "pledge to care" for the bank's clients. Says Ronald: "It's not just committing to the pledge but finding ways to contribute to it. Because, one way or another, we all have the ability to shape the client experience."
Unlocking the full potential of the organisation requires a rethink of certain practices, which is now underway. "We want to make things easier and more convenient for our customers, and more efficient for us."
One of the first roll-outs will provide employees with one single point of access to the bank's loan policies. Cruickshank-Simon welcomes the move, saying it will reduce significant amounts of time sifting through multiple sites and locations.
'Strive for five'
New ways of working are also being explored, such as the "strive for five" initiative that aims to limit meetings to five people, keep presentation decks to five pages and emails to five bullets.
With a relentless client focus and more simplified processes in place, the leadership team has begun to empower more managers with decision-making authority. Ronald says this will help RBC be more responsive in local markets.
The move is also critical in a region as culturally and economically diverse as the countries making up the Caribbean. This helps explain why the region's growth strategy has to be centered on client needs.
Efforts to continue to improve operational resilience as well as derive better customer insights are two other key priorities embraced by the region's leadership team.
"To help shape the future, we will really need to leverage the insights and knowledge from our clients and advisors locally, listening, and identifying opportunities to develop capabilities," says Mani Jahangoshahi, who oversees RBC products and marketing in the Caribbean.
The region will also tap into the RBC franchise. For instance, Jahangoshahi says the leadership team wants to see more Caribbean employees gain greater exposure to their colleagues in Canada and globally, then adopt the best practices that make most sense in the local market.
That effort is part of a broader focus to identify and develop local talent. Says Jahangoshahi: "We want to accelerate our internship programmes to bring more students in, as well as collaborate more closely with the different schools."
Investing in growth
It's an ambitious undertaking, and will take time to gain full momentum. But Ronald says the next chapter in RBC's Caribbean story will focus on investing in growth.
He describes 2022 results as "early green shoots" of the progress made to date. Employee engagement scores are moving in the right direction. The region grew volumes, revenues and met each of its key targets, growing NIAT by more than 50%.
The results show the local team has what it takes to perform at a high level according to Ronald. He is confident but not complacent about the journey ahead. "The team has done a great job in creating a pathway forward for continued improvement. But there is more work to be done."
"Still" he adds "we are all part of a winning team. It's just a matter of stringing together a whole bunch of winning seasons."
Cruickshank-Simon agrees. "Employees know what our strategy is. The client pledge is a big part of it. And because we have a great team, and they are being set up for success, RBC is definitely going to build on our momentum. That's going to be our story moving forward."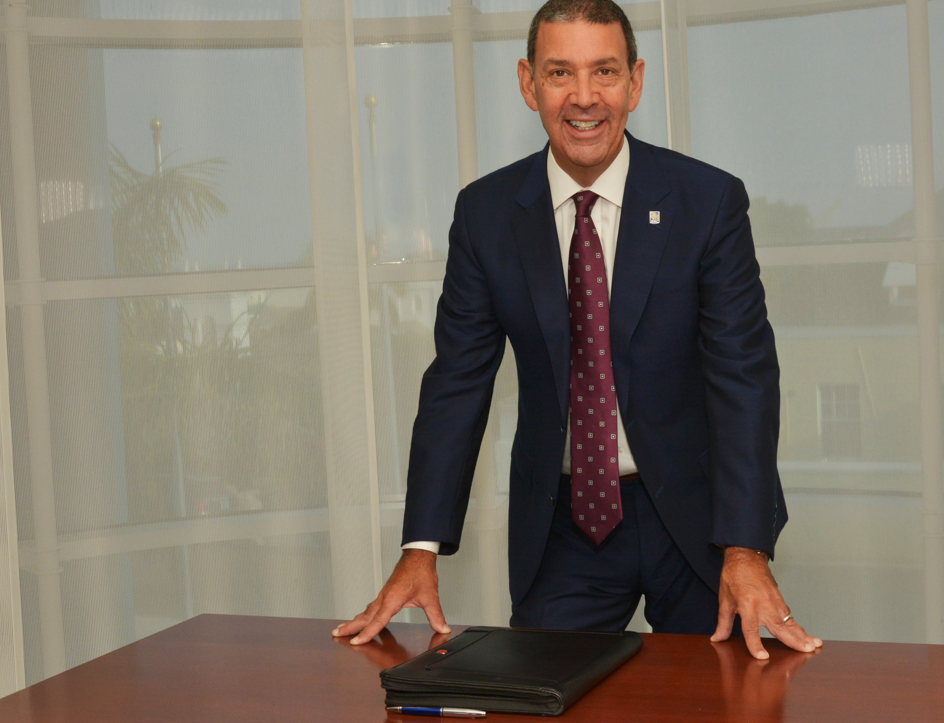 Chris Ronald, Head, RBC Caribbean Banking
RBC in the Caribbean
RBC's history in the Caribbean goes back a long way. In fact, the Bank established branches in the Caribbean before some of Canada's western provinces.
RBC's first venture south was to Bermuda in 1882, followed by Cuba in 1899. In 1908 RBC opened its first branch in Nassau, The Bahamas. By 1914, the bank's Caribbean network included Puerto Rico, The Bahamas, Trinidad and Tobago, Jamaica, the Dominican Republic, Barbados, Belize, and Grenada. In that same year, RBC purchased British Guiana Bank that had opened in 1836.
In 1915, branches were established in three Eastern Caribbean islands – Dominica, Antigua and St. Kitts. Between 1917 and 1920 the bank opened branches in Nevis, Montserrat, Tobago, Martinique, Guadeloupe, Haiti and St. Lucia. Branches were subsequently opened in St. Vincent in 1959 and Grand Cayman in 1964.
Today, RBC has a presence in 10 countries and territories across the Caribbean, including The Bahamas, Cayman Islands, and Turks and Caicos Islands in the North, to Trinidad and Tobago and Barbados in the South. The bank also has branches on the five Dutch Caribbean islands of Aruba, Bonaire, Curaçao, Saba, and Sint Maarten. With more than 3,000 employees, RBC serves more than half a million clients across its Caribbean network, and has its regional headquarters based in Port of Spain, Trinidad and Tobago.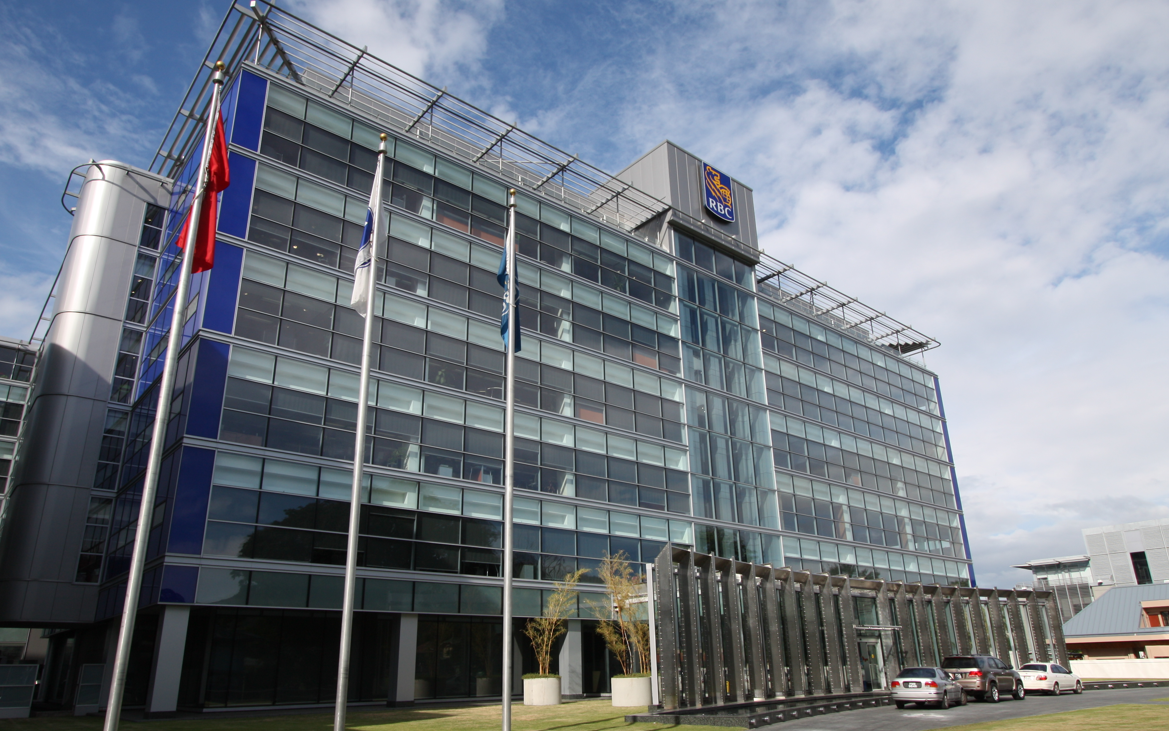 RBC St. Clair office, Trinidad and Tobago