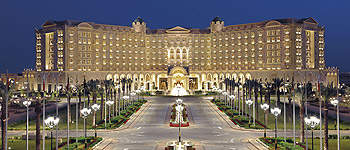 The Banking Renewal for a Digital World
09:00-14:00
Wednesday 2nd September 2015
Ritz Carlton, Riyadh, Saudi Arabia
The Banking Renewal for a Digital World round table will bring together banking leaders from the Saudi Arabian banking sector and industry subject matter experts to discuss and deliberate on the key issues.
As the world becomes more digital, Saudi Arabian banks will face continued disruption. Siloed processes, legacy systems and new customer demands, among other things, are prompting a need to rethink and renew the banking business and find innovative ways to get things done. Therein lays a great opportunity for Saudi Arabian banks – the opportunity to leverage technology to simplify banking, amplify capabilities, accelerate innovation and deliver great banking experiences.
Timetric's flagship banking publication Retail Banker International has joined forces with Infosys Finacle, the global leader in banking technology solutions and Wareef, among the Kingdom's leading IT consultancies, to host an invitation-only business roundtable followed by lunch. The roundtable will place the spotlight on what it will take for Saudi Arabian banks to succeed in a digital age.
Objectives of the roundtable
The roundtable will bring you together with your senior banking leaders and global subject matter experts to share insights on new developments in global banking and engage on the focus areas for Saudi Arabian banks. The discussions will center around sharing experiences and best practices in innovation and meeting customers ever rising expectations.
When: 
Wednesday 2nd September
Registration 09:00 – 09:30
Roundtable 09:30 – 14:00
Where: 
Ritz Carlton, Riyadh, Saudi Arabia
How:
This is an exclusive forum and there are limited spaces at the table, so to secure your spot,
please contact Hind Shubber on: hind.shubber@timetric.com  Or call +44 (0) 203 096 2575