Retail Banker International Roundtable
Venue Hyatt Regency, Casablanca, Morocco
Exclusive Invitation to
Building Tomorrow's Bank | Casablanca |
Sep 9, 2015
09:00-14:00
Wednesday 9th September 2015
Hyatt Regency, Casablanca, Morocco
The Building Tomorrow's Bank round table will bring together banking leaders from the Moroccan banking sector and industry subject matter experts to discuss and deliberate on the key issues.
Morocco is one of the most exciting and competitive banking markets today. It is rapidly developing – the sector has undergone a series of reforms which consist mainly in the improvement of the situation of public financial institutions, the marketing of new products and the modernization the banking legal framework. Mobile banking and Islamic Banking are also enjoying significant growth while branch banking is being boosted as many Moroccans look to retain a personal relationship with their banks.
As the world becomes more mobile, Moroccan banks will face continued disruption. Siloed processes, government legislation, legacy systems and customer demands among other things, are prompting a need to rethink and renew the banking business and find innovative ways to get things done. Therein lays a great opportunity for Moroccan banks – the opportunity to leverage technology to simplify banking, amplify capabilities, accelerate innovation and deliver great banking experiences.
Timetric's flagship banking publication Retail Banker International has joined forces with Infosys Finacle, the global leader in banking technology solutions to host an invitation-only business roundtable followed by lunch. The roundtable will place the spotlight on what it will take for Moroccan banks to succeed in a digital age.
Objectives of the roundtable
The roundtable will bring you together with your senior banking leaders and global subject matter experts to share insights on new developments in global banking and engage on the focus areas for Moroccan banks. The discussions will centre around sharing experiences and best practices in innovation and meeting customers ever rising expectations.
Hyatt Regency, Casablanca, Morocco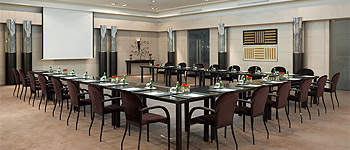 The Hyatt Regency Casablanca hotel is ideally situated in the centre of Casablanca, a legendary city and main commercial and financial hub of Morocco. Located right in the United Nations Square, Hyatt Regency Casablanca is steps away from the Old Medina, the Quarter of Habbous and the central market, ensuring that it's one of the best situated hotels in Casablanca and, indeed, one of the finest luxury hotels Morocco has to offer.
ELIGIBLE INSTITUTIONS FOR THE RETAIL BANKER INTERNATIONAL ROUNDTABLE INCLUDE:
| | |
| --- | --- |
| 09:00 – 09:30 | Registration |
| 09:30 – 09:35 | Welcome address |
| 09:35 – 10:05 | Keynote Address:Building Tomorrow's Bank – How can Moroccan banks stay relevant to their customers? |
| 10:05 – 10:35 | Theme Address: How can Moroccan banks innovate digitally? |
| 10:35 – 11:05 | Digital Innovation – Case Study |
| 11:05 – 11:20 | Refreshment Break |
| 11:20 – 12:00 | Panel discussion: How well prepared are Moroccan banks for a digital revolution? |
| 12:00 – 12:15 | Q & A session |
| 12:15 – 12:30 | Wrap up and Vote of Thanks |
| 12:30 – 1:30 | Networking Lunch |
Thank you for attending the conference.
To download the presentations, please enter the password: