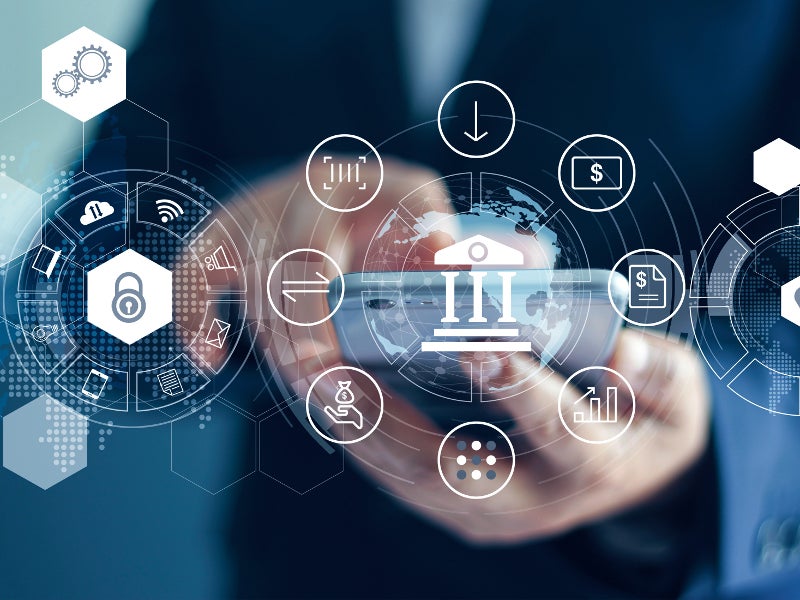 New technologies have unleashed a golden age of innovation in consumer financial services. We've seen more change in the last 20 years of banking than we did in the last 500. In the next two years, we'll likely see more change than in the last 20 years.
Leading technology trends in digital banking
Listed below are the leading technology trends in digital banking, as identified by GlobalData.
Mobile-first banking drives simplicity and access
The smartphone is the critical enabler of the latest wave of direct banks (following the call-centre banks (First Direct) and online banks (ING Direct)). The smaller screen size forces providers to design the simplest possible experience, then progressively enhance that for larger screen sizes, making all digital touchpoints better. Device sensors reduce friction, whether through biometrics for account opening, or data capture to help anticipate customer needs. Mobility increases the utility of advice, getting it to customers where and when they can act on it, such as a push notification before a bill goes unpaid or a budgetary threshold is exceeded.
Artificial Intelligence (AI) enables predictive money management
AI-powered money management helps digital banks such as Monzo drip-feed highly personalised spending tips to build trust and engagement in the absence of in-person interaction, just as Amazon once did with real-time notifications on order progress.
Features such as predictive insights around cash-flow short-falls, alerts on upcoming bill payments and various "what if" scenarios when "trying on" different financial products give customers transparency around their options and the risks they face.
Combined with real-time Customer Relationship Management (CRM), new digital banks can optimise product recommendations to rival the conversion rates of best-in-class online retailers.
Big data enabled credit assessments
Big data helps augment traditional credit risk methodologies to unearth new lending opportunities. Oaknorth's Acorn platform can approve small and medium-sized enterprise (SME) loans within seconds, assessing the performance of similar businesses in similar cities under similar conditions to improve the quality of credit paper. Ant Financial's MYBank, focused on the risky rural SME sector, keeps its non-performing loan (NPL) ratio to 1% by applying these techniques.
Big data technology allows all types of data to be managed and analysed. This includes structured and unstructured data from proliferating channels, such as clickstream data from web channels, location-based information from mobiles, speech analytics from call centres, sentiment analytics from social networks, alongside traditional balance information, transaction history and credit profiles.
Cloud lowers operating costs and enables partnerships
Cloud lowers start-up costs, run costs, and time-to-market for new entrants. Cloud native core systems provider Mambu helped N26 scale quickly by launching in multiple geographies concurrently with limited marginal cost. Oaknorth reports 60% core cost reduction by working with the same vendor.
Cloud enables incumbents to consolidate disparate data sets without the cost, expense, and time of core system replacement. Cloud is the most secure way to fulfil open banking obligations and partner with start-ups. Banks can set up incubation sandboxes that allow for safe experimentation, using integration layers to safeguard systems of record, such as transaction or booking systems, and guard against any data breach that might erode consumer confidence.
Robotic process automation (RPA)
Technology trends in automation help new entrants undercut incumbents' fees and deliver greater convenience. From digital account opening offered by digital banks such as Starling or Monzo in the UK to an ongoing line of credit offered to small businesses by peer-to-peer (P2P) lending platform P2Binvestor. DBS' Digibank is a landmark example of the cost saving potential. It acquired one million customers in less than six months, all served at zero marginal cost.
Micro-services enable flexibility and agility
By following technology trends, new digital banks emulate the architectures of leading platform companies, such as Amazon and Netflix, creating small independent services optimised for change and reuse. Decoupling application dependencies in this way fits well with agile delivery teams that release new software early and often as they iterate and deliver new features, often co-creating with customers. The use of lightweight containers and low overhead run times for deploying and running new services means that they are very easy to deploy and script.
APIs are the glue for digital transformation
For new digital banks, APIs are the enablers of a variety of new business models, whether bank as a marketplace, bringing external products and services to customers in a secure environment (e.g. Monzo's use of TransferWise for payments), or bank as a service. For incumbents, APIs not only enable micro-services, but represent a low cost way to expand reach. For example, APIs to populate a comparison table on a comparison website, or an API to access a bank loan on a retailer's website.
Early stage Internet of Things (IoT) reduces friction
IoT is at a nascent stage in banking, but more things connected to the internet means more data to anticipate what customers want and more end points to deliver insights. Connected homes, connected cars, and connected supply chains enable banks to pop up in moments of need, with pre-approved offers of additional car insurance, home financing, etc.
This is an edited extract from the Digital Banking – Thematic Research report produced by GlobalData Thematic Research.