Looking beyond Covid-19, banks looking to benefit from children's banking should build a reputation with parents as a trusted source of knowledge while engaging their children with fun and educational content.
For parents, making sure their child is financially literate can be a daunting task. While the subject can make an enormous life difference, it is rarely taught in schools with children too busy learning everything else. Meanwhile, many parents neither have the time nor the expert knowledge necessary to teach it confidently.
However, GlobalData's 2020 Banking and Payments Survey has found that in parents' minds, banks are well suited to offer trusted financial content. Our results show that "teaching the importance of money management and saving" was the top aim of a majority of parents with children 16 years old or younger across Asia Pacific when opening a child's bank account.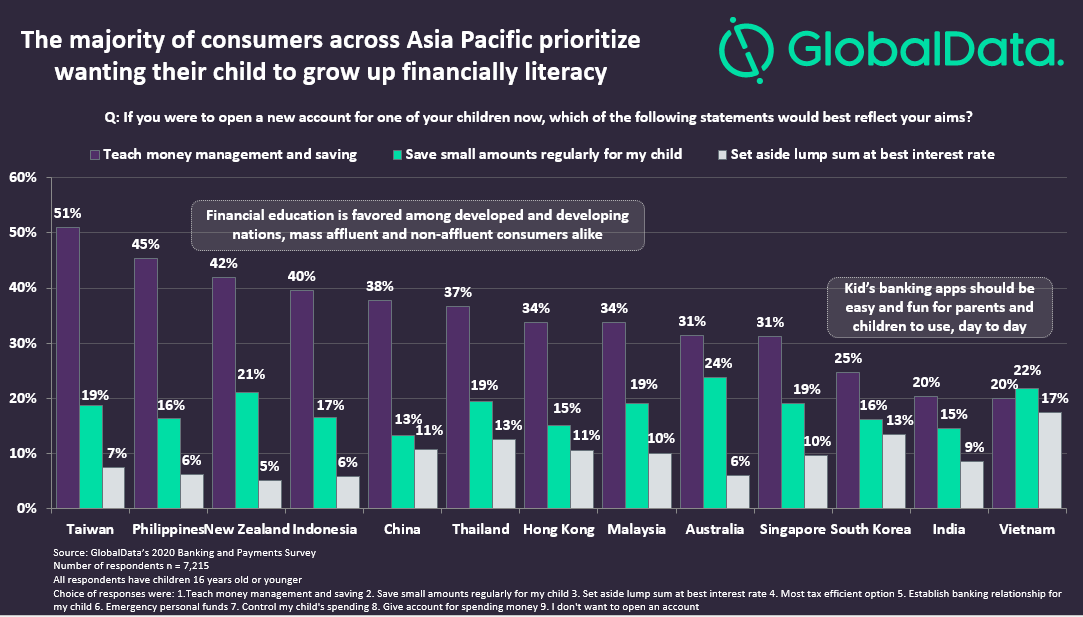 These results show conclusively that educational content should be the priority focus for banks when venturing into children's banking. Almost always, the need for financial literacy is stronger than finding a good interest rate or even using the app to save money, with other factors like controlling children's spending or giving kids their own account rarely selected. Banks that cultivate themselves as a fountain of knowledge will find they develop a deep level of trust with parents and children, who respect the bank for giving them knowledge that significantly helped them in their life.
Some are already becoming financial content providers. NatWest recently launched a free PS4 game called Island Saver, marketing it comprehensively to parents as a way for children to learn good habits such as saving and recycling.
However, banks not only need to get parents on board but also need to engage children with the content they are producing. In NatWest's case, Island Saver lacks interesting game mechanics, with in-game banking tasks like entering a PIN number likely to leave children bored after playing once.
Instead banks should engage children by making content that helps them understand the real world. The 2011 game Savings Spree, for example, contains behavioral aspects to its mini-games, teaching kids about the nature of rewards for hard work and taking risks with money in a way that is fun and relatable. This is why Tycoon and other business simulators have proved consistently popular over decades in the gaming scene.
By offering fun, educational content for children, packaged with an easy-to-use savings account that parents can deposit money into, banks can successfully start developing a reputation as experts in financial literacy.