Bank of America commits $100m to help communities around the world get through the coronavirus Pandemic.
As the world faces unprecedented challenges for the worldwide epidemic, America's second largest bank said the donation will provide support to the world's most vulnerable populations.
Specifically, the funds will help increase medical response capacity, address food insecurity, and increase access to learning as a result of school closures.
"We must all work together as one global community – public and private sectors, as well as individuals – to address this healthcare and humanitarian crisis," said Brian Moynihan, chairman and CEO of Bank of America.
"As the needs in our local communities continue to rapidly escalate, we must take swift action to provide resources where there are gaps, and help local communities protect their most vulnerable populations," he said.
Meanwhile, the coronavirus pandemic has sickened more than 237,600 people, according to official counts. As we go to press, at least 9,921 people have died, more than half of them outside mainland China.
Where cases are rising fastest (20 March 2020, AM, London)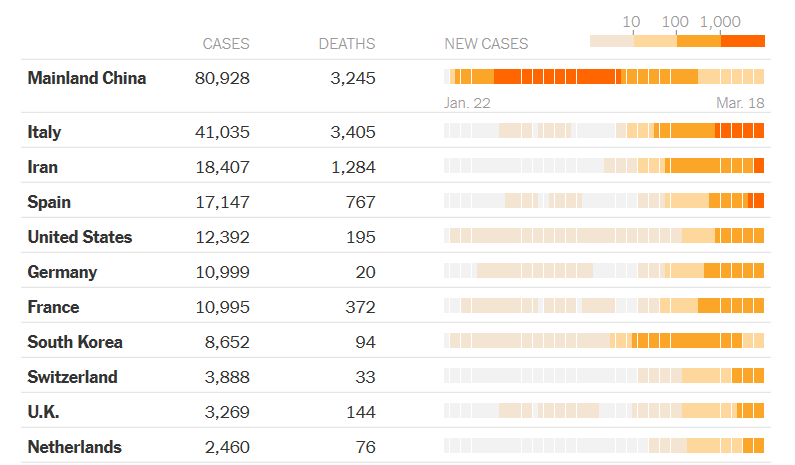 Funds to be allocated on the ground
The money will be largely distributed on the ground level in local market the bank said. It will target not only immediate needs facing communities but also ongoing needs in the months ahead.
The bank will also increase funding to several national and global organisations that are on the front lines, tackling the most pressing issues in local communities.
"Building on the efforts of local, state and international governments, we are focusing our resources on the number one priority – looking after people," the CEO said.
The bank, like many others, has increased the number of employees who work from home, and beefed up the sanitation of its branches. Moynihan has said that the bank will defer bill payments for people affected by the pandemic.
This is the latest in a string of donations that banks and major companies have made to help communities deal with the harmful effect of the coronavirus. Last week, Facebook has set aside $20m to match donations to 2 separate funds being set up to fight the global coronavirus pandemic.