Comments
Yes Bank's chatbot shows how easy banking makes life better for customers
Yes Bank's near-comprehensive chatbot demonstrates the potential for easy banking among established players. The 30%+ annual growth the Yes Bank chatbot has helped achieve in the Indian bank's retail banking segment highlights the positive impact that convenience-driven products have on the market.
Demand for convenience from banking providers is growing exponentially. Instead of waiting in branches, more people globally now conduct the majority of their day-to-day activities online. Digital banks generally excel in this field, constantly striving to simplify processes and deliver easier-to-understand products that require less time to purchase.
Yes Bank and a chatbot
With 18,000 employees, Yes Bank is definitely beyond start-up territory. The bank's strategy for easy banking lies in its recently revamped chatbot, Yes Robot, which uses machine learning and credit scoring technology from Microsoft.

Customers can perform one of 85 banking functions, made up of 10 segments. These include booking savings deposits, managing credit cards, and checking loan eligibility and applications, as well as 10 different general banking services like paying bills and checking an account balance. There is a large range of options for consumers, with secured and unsecured loans covering 17 different scenarios or five card types including credit, travel, and corporate cards. Yes Robot also offers functions that most would not expect, including trade and dealer finance services, deals on travel booking and entertainment, securities and insurance services, applying for merchant payment services for businesses, and arranging safety deposit boxes.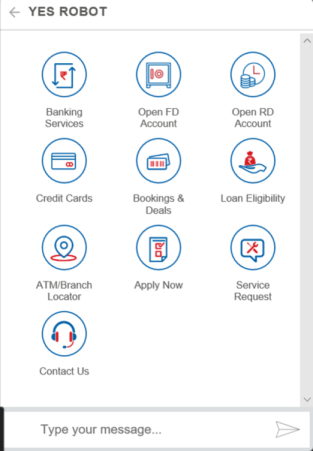 The bot has also been designed with convenience in mind. Checking an account balance involves only three steps, with logging in and finding the nearest ATM or branch using a map and address taking just two clicks from the landing page. This relieves customers from the hassle of navigating multiple web pages or reading confusing instructions from other Indian banks, which ultimately helps sell more products. Similarly, an omnichannel approach is vital for successfully delivering easy banking. Yes Robot customers are able to use the chatbot online, on mobile browsers and on Facebook. Support will soon extend to WhatsApp, as well as virtual assistants Alexa, Google Home, and Siri.
The benefits of easy banking reforms, such as the chatbot, enable Yes Bank to serve its customers quickly and efficiently, freeing up capital for the bank to grow. Total assets, advances, deposits, and net interest income have achieved five-year compound annual growth rates of between 25% and 34%, with growth from retail banking running at around 30–40%.
This is unsurprising given that the approach is an effective way of retaining and acquiring new customers. GlobalData's 2019 Banking and Payments Survey shows that consumers value "being able to do what I want, when I want" as the most important attribute for a financial services company in India. This attribute was additionally ranked second highest on a global scale. Yes Bank has also won numerous awards with this strategy, having been named as the best bank in India for SMEs and the most customer-centric bank using technology. It was also among the winners in the Innovation in Data Science category at the Aegis Graham Bell Awards 2018.
Yes Bank's conversational chatbot is a great example of how large, incumbent banks can integrate simplification and easy banking into their already comprehensive offer. Instead of letting digital challengers win over customers, banks should act first with easy banking in mind.
Related Report:
Latest reports from
GlobalData is this website's parent business intelligence company.