The UK economy's prospects are likely to remain more uncertain than usual for the next two years, as a consequence of Brexit.
In Q1 2018 the economy grew at a slower pace than over the last few quarters, and the UK's current position is a little mixed. House price inflation has moderated in recent months yet it still remains above earnings growth, and so affordability is still a challenge for would-be borrowers.
Our UK Mortgage Market 2017: Forecasts and Future Opportunities report confirms that overall the UK mortgage market was slightly restrained in 2017, with some components holding up better than expected. Data from UK Finance (as shown in the chart below) shows that the underlying trend in housing transactions softened a little last year.
Despite a boost in recent months, speculation of a base rate rise saw the market remain relatively subdued with a decline in activity among both first-time buyers and homemovers in the first half of 2018, as customers adopted a 'wait and see' approach. And although the full impact has yet to be felt, tax and regulatory changes continue to bear down on borrowing activity in the buy-to-let purchase market.
Buy-to-let
The buy-to-let sector had a weak start to 2018, with lending falling as landlords reduced their exposure to the market in response to major tax changes and tighter lending rules. While falling mortgage interest rates helped support borrowing, tax and prudential measures exerted pressure on the buy-to-let space. Volumes have declined as the market has stagnated, with business levels in Q1 2018 declining by 7% compared to Q1 2017.
It seems that the loss of tax relief was the biggest blow for most landlords. The impressive growth in buy-to-let lending seen over the last few years came to a sudden halt, and is unlikely to resume in 2018–19. There was also considerable growth in remortgaging in the buy-to-let sector, showing that while recent tax and regulatory changes are impacting on new purchases, many existing landlords remain in the market.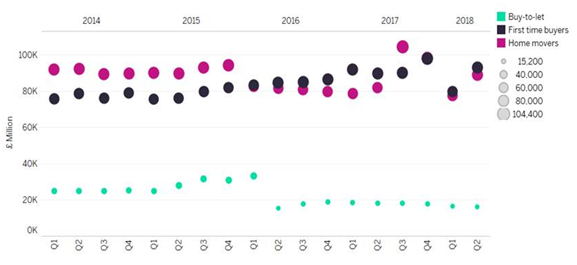 In the residential space activity was limited by stamp duty changes. However, this constraint will potentially be eased for first-time buyers as a result of the stamp duty relief announced in the 2017 Autumn Budget. First-time buyers are also being supported by various government initiatives, including the Help to Buy equity loan scheme. The number of first-time buyers has returned to modest growth in the first half of 2018.
However, affordability remains a challenge for many prospective borrowers, underlining the importance of clarity over the future of schemes such as Help to Buy. Our expectation is that the recovery in first-time buyer numbers will continue over the next two years, albeit at a slower rate than we have seen in previous years.
Increase in activity?
Q2 2018 has seen an increase in mortgage lending activity compared with the previous quarter. New commitments (new lending that lenders have agreed to advance in the coming months) are at their highest level since Q1 2008, and there has been an increase in the amount of lending to first=time buyers.
Weak housing transaction activity has also originated from home movers, who have benefited far less from government schemes and whose numbers have been flat over the last 12 months. Taking all of these factors together, we expect to see regulated house purchase activity grow modestly in 2018, driven wholly by first-time buyers, as home mover numbers will remain flat.
As it is still not clear how Brexit negotiations will pan out, both buyers and sellers are waiting to gain a clearer picture of where the economy might be headed. The overall economic outlook remains mixed as household incomes continue to be squeezed by rising inflation. For this reason, we expect overall activity in this sector to grow moderately in 2018, in part a result of the economic uncertainty.