Comments
Digital banking: Top incumbent banks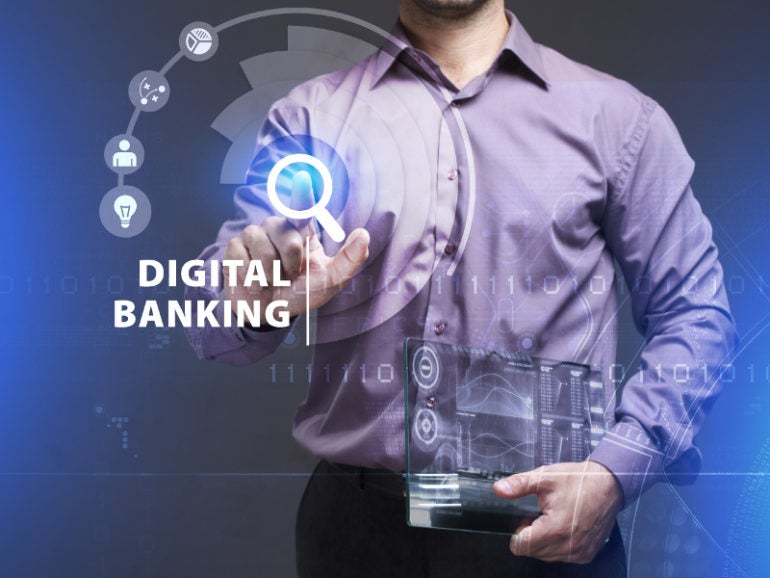 To remain competitive in a digitally disaggregated value chain, incumbent banks must build a range of new digital capabilities that allow them to re-imagine what banking means for the digital era, borrowing from best in-class digital banks.
Top incumbent banks in digital banking
Listed below are the leading incumbent banks in digital banking, as identified by GlobalData.
BBVA
BBVA has made series of acquisitions (including Simple, Holvi, Madiva, and Spring) to bolster its digital banking capabilities. Like new digital banks, BBVA lets prospects open a new bank account entirely via their smartphone in just a few minutes. Prospects take a picture of their ID and a selfie, which the bank then verifies through a facial recognition process. BBVA was an early adopter of open banking, having launched its API Market in 2017.

This offers a range of APIs that provide access to data for accounts, cards, loans, and notifications. It also includes an API that connects to China's Alipay, thus allowing retailers to accept payments from Chinese consumers. BBVA also hosts an annual Open Talent competition through which it builds partnerships with third parties to develop new products and services.
Capital One
In 2012 Capital One acquired ING Direct's US business and re-branded as Capital 360. The bank is a leader in open banking, launching the first fully open banking platform in the US, called DevExchange. Its APIs allow third party providers (TPPs) to help their customers open Capital One accounts, receive credit card offers from the bank, and view information on the rewards they have earned on their Capital One accounts. Its latest APIs will enable TPPs to use Capital One's capabilities to verify and authenticate customers and perform KYC checks, and gain access to customers' account and transactional data.
CommBank
Commonwealth Bank of Australia (CBA) has over five million customers using its mobile app (active users). It has made big investments in cloud technology, even public cloud, dating back to 2012. The CommBank app includes rich money management features, a wide variety of different payment options, alongside integrated social media support. The bank's Daily IQ tool gives customers daily insights into their spending habits. CBA's home buying app was an early example of how banks can play a bigger and earlier role in the purchase cycle for new products.
CBA's augmented-reality app allowed users to point their smartphone's camera at a property and instantly see its current price and sales history. The app included a mortgage calculator and other financial tools, plus the option to connect with local realtors. In the six months after the app's release, customers searched more than a million properties, and the bank estimated the project's return on investment at more than 100 percent.
DBS
DBS is perhaps the world's most celebrated digital bank, with Singapore's favourite mobile wallet, a unique social network for SMEs, and the world's largest banking API platform, comprising over 150 separate APIs. These cover account application, loan eligibility, bill payments, customers' channel preferences, and transaction analytics.
The platform went live in November 2017 and, by January 2018, was already being used by over 50 TPPs, including McDonald's, MSIG, and PropertyGuru. The latter uses DBS's APIs to conduct real-time mortgage affordability checks. For its part, DBS will be able to amass data on spending habits, financial information, and social trends that it can use to gain in-depth insight on consumers.
Garanti
Garanti has pioneered the digital transformation process in Turkey for over two decades. Today the bank has 6.2 million active digital customers and 5.4 million mobile clients with 95% non-cash transactions made through digital channels, and supports all product applications end-to-end through digital. Their mobile app, iGaranti, consistently comes top (or close) in the digital banking functionality rankings of all analyst firms. The bank even supports digital pension plans and brokerage accounts through mobile.
USAA
In banking circles, USAA has an unrivalled reputation. In 2018, USAA's NPS was more than four times higher than the average score among banking providers, and they've had the best NPS in the financial industry eight years in a row. That's partly due to the company's structure – it exists to serve members – and partly due to its client base – military service people, often abroad, who can only be served through highly personalised digital products and services.
Westpac
Westpac has completed a multimillion-dollar upgrade of its customer service platforms, designed to let it follow inquiries across devices and begin to experiment with bots to handle some tasks instead of people. The upgrade means the bank can better handle an estimated 65 million customer interactions each year, and it is hoped this will eliminate the bane of customers' existence, namely explaining a problem from scratch each time they call up or change channels.
Westpac's early use of responsive web design for mobile banking allowed it roll out rich functionality very early on to drive adoption, and conduct case-by-case native integration where big UX gains were in play.
OCBC
OCBC is a leader in API banking, having launched the first open banking platform in South-East Asia in 2016. The platform has rapidly expanded since then, and currently offers more than 60 separate APIs. These provide access to product details, loan calculators, rates and prices, card payment services, and customers' account and transactional data.
Latest reports from
GlobalData is this website's parent business intelligence company.