As entire countries come under lockdown due to coronavirus, consumers that are used to accessing essential banking activities via branches could find themselves having to switch to online and mobile banking for the foreseeable future.
With Covid-19 sweeping across Europe, governments have acted by enforcing restrictive measures, such as banning gatherings in many public and private spaces.
Life must go on, however, and consumers must be able to carry out essential banking tasks, such as paying bills and transferring money to other accounts. But with branches among the facilities no longer available to consumers, a step change in banking channel behavior is likely to occur soon.
GlobalData's 2019 Banking and Payments Survey has found that the European states most affected by the virus have significant numbers of consumers who typically access essential banking services by branch.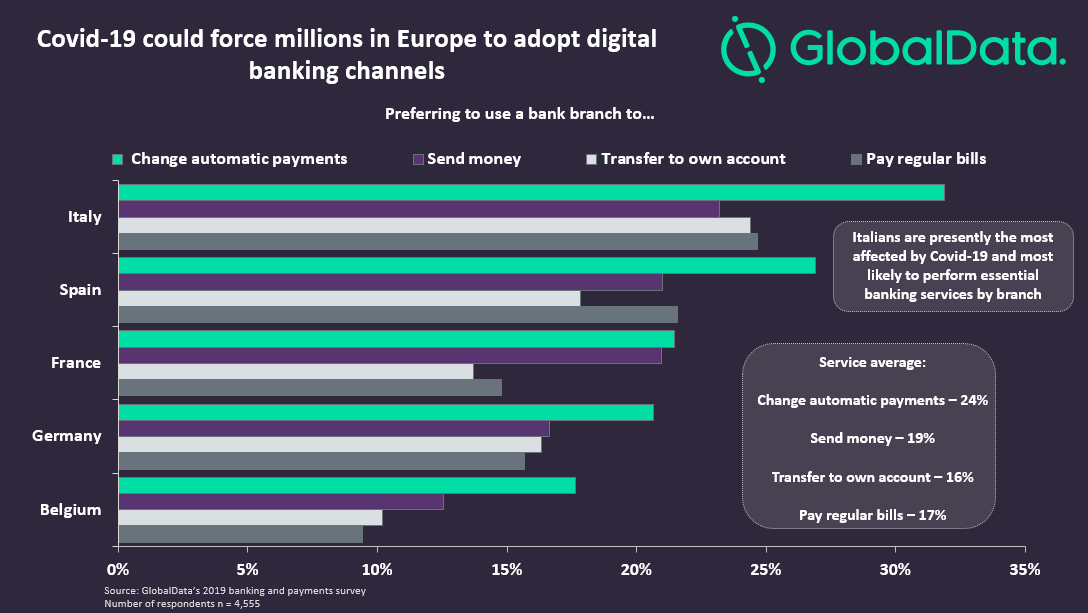 Taking into account the adult national population, using GlobalData's analysis to remove unbanked citizens, this suggests that millions might have to change their ways. Italy, for example, is expected to have over 18 million banking customers that are forced to use digital channels to change automatic payments, instead of their preferred branch channel. This will be particularly important for those seeking to economise, with quarantines leaving them unable to work.
While the majority of customers will likely know how to use their bank's digital services, banks should make the transition to online and mobile as easy as possible for those less confident. Chase Bank in the US, for example, has been advertising features on its mobile app including QuickDeposit, which lets customers cash cheques by taking a picture on their mobile. Such a change is likely to test banks' abilities to maintain their platforms and reveal how appealing their digital experience is to the majority of their customers.