The ongoing Covid-19 situation represents a difficult time for banks, with an abundance of funding from savers but with few consumers willing to take the risk to borrow.
While the British public still have confidence in the government's handling of Covid-19, the same cannot be said of their own financial lives.
The sudden change in the lives of millions of people has prompted many to draw a more pessimistic view of the future. GlobalData's UK sentiment tracker shows that the future sentiment index has fallen to an all-time record low, with the number of consumers actively trying to save on the rise.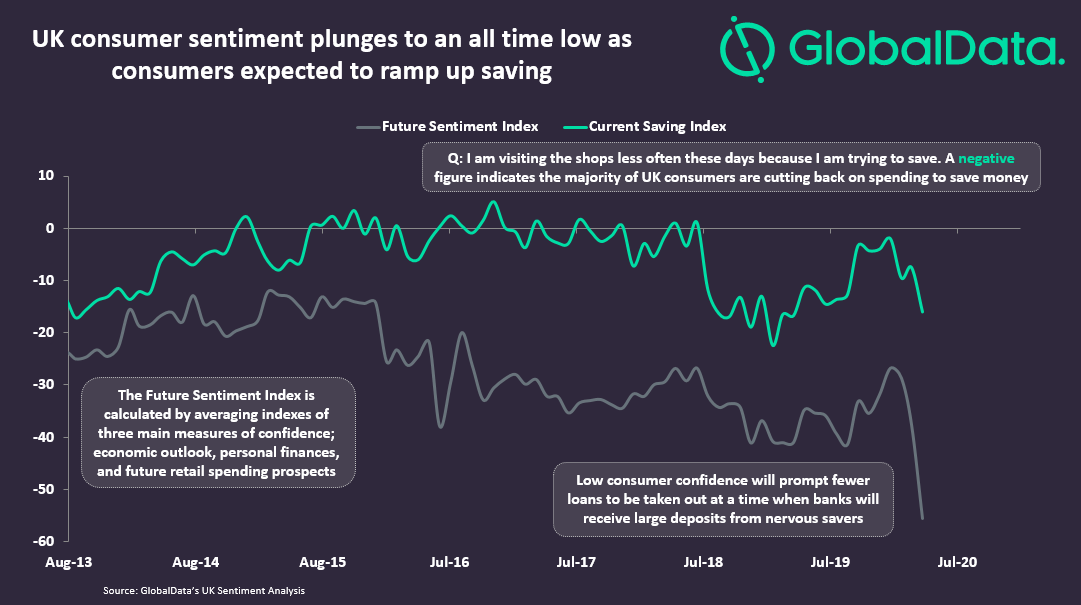 Such a sudden change is matched by more specific consumer spending, with sharp falls in the number of people from all social grades making big purchases and large ticket items. This, combined with GlobalData's index showing no deterioration in mortgage or rental payments, suggests a crisis of confidence, rather than a full-blown financial crisis.
However, significant numbers of consumers have dangerously low levels of personal savings, which they are likely to want to build up during the crisis. GlobalData's 2020 Banking and Payments Survey shows that 40% of UK respondents have less than $1,375 (£1,100) in cash savings, equivalent to a month's rent in London. The sudden drive to save at a time when demand is hemorrhaging could reinforce lower growth after the lockdown as money is ploughed into creating a personal safety net instead of domestic consumption.
This environment presents a doubled-edged sword for banks. On the one hand, it will precipitate an inflow of deposits from savers nervous to spend or invest at this time, combined with record-low interest rates, leading to lower funding costs for banks.
However, lenders find themselves in the difficult situation where normally creditworthy consumers will be averse to taking on new debt, while businesses struggling under the weight of Covid-19 will be the only ones receiving loans begrudgingly from banks, pressured by government.
Banks could quickly end up in a situation where the only people eager to take on new debt are those that in normal times would be rejected – a risky prospect, both for individual lenders and the wider financial economy.