Mergers and acquisitions seem to be on the agenda in the banking sector globally – but perhaps nowhere more so than in the Middle East, where there look set to be at least another ten banks to merge over the coming 18 months writes Henry Van Belle
The reason for the trend to merge seems two-fold. On the one hand, the sector is mature and cluttered, where larger banks identify their smaller competitors as a good way to gain market share quickly. On the other, with government budgets focused on economic diversification, there is little appetite to support struggling banks.
Not surprisingly, there is a lot of chatter in the financial press. The theme: What's in it for the banks? Apart from the obvious upside in terms of growth (access to new products, markets and customers), the focus is also on the potential pitfalls: inaccurate valuations, actual cost of integration, cultural integration issues… the list is long.
The elephant in the room
At no stage, however, have I seen any reference to the banks' customers. What does M&A mean for them? And is anyone thinking about how the resulting entity can benefit from putting the customer at the heart of its strategic planning?
After all, this is far from an altruistic matter: if you keep your customers happy, they're likely to stay; if you frustrate them, your competitors are just next door… (I switched banks only last week for this very reason, although I admit I'm yet to notice a fluctuation in either bank's share price.)
It's clear that M&A presents multiple challenges (layoffs, systems integration, culture) and opportunities (getting rid of what doesn't work, adopting what does). But the more a bank can go into a merger with a clear understanding of the challenges and opportunities – and a clear plan of how to solve or leverage them – the better the outcome will be for all stakeholders, not least the customer.
Putting the customer at the heart of your strategy
I run the Middle East operations of I-AM, an international customer experience design agency. Although we work in almost any industry where an organisation is looking to improve the experience it offers its customers, we've worked with about 100 banks around the world over the past 21 years – and fifteen of those banks have been in the Middle East, since we opened our studio in Dubai in 2014.
Before going into detail about some of the methodologies we employ to help our clients delight their customers, it's worth looking at the number and range of customer touch-points to consider: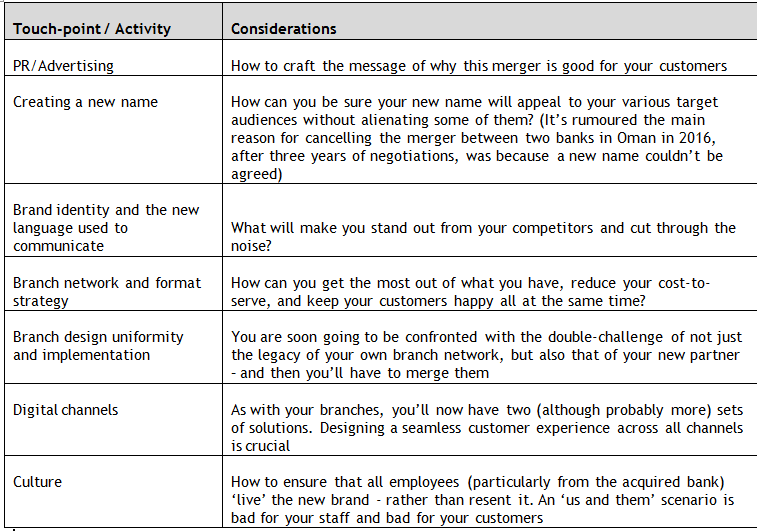 The starting point
Companies like I-AM are typically retained at the stage when the banks' strategists have agreed the terms of the M&A, the due diligence has been conducted and their attention has turned to how the new entity will look, feel and behave. Our task is to create a new brand and deliver a branded customer experience; one that people will remember and will want to recommend.
At I-AM we define a brand as the impression you give your customers wherever they come into contact with your organisation – irrespective of the touch-point. There are a number of factors to take into consideration, including: brand image; products & services; people & culture; processes & systems; digital channels & technology; physical environments.
Understanding – and knowing how to address – these different factors, will go a long way towards creating a holistic brand experience that adds significant value to your organisation.
Who are we designing for?
Before we even start with design strategy, it's imperative to understand the needs and wishes of the people for whom we're designing: the customers themselves. Customer behaviour changes from sector to sector and from market to market – it can also change from bank to bank. This means that one half of a merger's customers may have different needs and wishes to those of the other half – not to mention the fact that preferences change from individual to individual.
I-AM's service design team will observe existing customers in real-time banking situations, both virtual and physical. We use these sessions to identify pain-points with the existing offer.
We then interview customers to understand what they do and do not like about a particular experience, and what they'd replace it with if they could. We also dig deeper, asking questions such as where people want to bank, at what time of day, and what are their favourite brand experiences outside the banking sector. Distilling this information allows us to create detailed customer personas, which form the basis of the design strategy.
 A shared vision for creative direction
Knowing the importance of adopting a collaborative approach with all key stakeholders within the bank, we conduct design strategy workshops to define the founding principles and creative brief for the design process.
We often start with a traditional Brand Key, to help determine critical factors such as context, positioning and expression of the new brand. This is followed by a customer journey workshop where we define – using the recently gained customer insight – how we want customers to think, feel and behave at each stage of their interaction with the new entity.
Addressing the customer journey holistically is crucial, but it's also important to remember that the overall experience you offer your customers is only as strong as the weakest step in the journey. Perhaps not surprisingly, customers tend to have a better memory for things they don't like than for things they do.
The role of Technology
I'm grateful to receive a healthy number of project briefs from various banks around the region. Most banks have similar objectives (gain more customers, engage with them better, reduce the cost to serve them) so it's unsurprising that many of the briefs focus on similar themes. 'Innovation' seems to be the most common.
There is good reason for that: technological innovation has completely transformed the banking sector (and most others) in recent years. Ensuring that your bank keeps up-to-speed with the latest developments is crucial. However, innovation for the sake of innovation is an easy trap to fall into.
Here again, going back to our customer personas is a good starting point. So, too, is being able to ask – and answer – the right questions. It's easy to be impressed by a flash piece of kit in one of your competitor's branches but understanding the purpose of technology is essential before making an investment. (It wasn't too long ago that, before becoming one of our clients, a bank in Turkey invested in the latest 'digital coffee table', only to watch it become a very expensive regular coffee table.)
The questions we ask when it comes to technology include: Who's going to use it? What are they going to use it for? What problem does it solve? Do the benefits justify the investment? Where should it be located within the customer journey to ensure it's used effectively? What should be the relationship between staff and technology?
Success not failure
I was amazed by the recent (or current in some parts of the world) trend of talking about – and celebrating – failure. 'Fail fast and fail often' is the mantra. While I understand the thinking behind it ('if you've never failed, you've never tried'), when it comes to embarking on a project as important as M&A, failure should not be on the menu.
Structuring the project in the right way with clearly defined objectives, bringing in the right partners at the right time, being able to adapt and evolve as you progress are all critical. Remembering that it's your customers who buy your products and services is a good place to start.
Henry Van Belle is Managing Director of I-AM Dubai and the Middle East