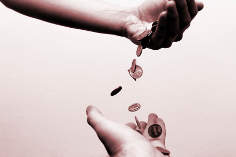 Halifax is offering £100 and a fee free overdraft for 12 months in a bid to grab encourage people to switch accounts. Billy Bambrough spoke to Anthony Warrington, head of current accounts at Halifax, about account switching, relationship pricing and the future of Halifax
Lloyds Banking Group has sought to position its Halifax subsidiary as a challenger brand to its major rivals, including its own Lloyds TSB main brand. In the key current account products sector, Halifax has ambitious plans to gain market share.
Retail Banker International (RBI) speaks with Anthony Warrington, head of current accounts at Halifax, about his plans to grow market share by targeting account switchers.
Retail Banker International (RBI) – What are the details of the offer?
Anthony Warrington (AW) – "The majority of last year we were running a £100 incentive to switch. Since January we have been offering the £100 plus a 12 month for customers switch an overdraft to us.
"What we are going to do after the end of Feb is carry on with a reduced offer of £50 and six month free overdraft. We are planning to do another pulse of the £100 and 12 month offer some time in the summer."
"We want to be seen as the #1 brand for switching"
RBI – Is there any limit to the outstanding overdraft that switchers can have and still get it fee free for 12 months?
AW – "The simple answer is that there is. The level of acceptable overdraft will be calculated on an individual level. If you were to switch accounts and wanted an overdraft, customers would tell us the size of the overdraft they want and we would decide whether that is a limit that we are prepared to give.
"That is capped we give out very few overdrafts over £5,000 pounds, most would be closer to £2,000. It's subject to credit scoring etc. When the new switching regulations come in to affect in September we may look to do something different around that point but this is part and parcel of what we are doing this year. We want to be seen as the number 1 brand for switching.
"The offer is the same for all customers within Lloyds TSB Group. Internally the brands are run in competition with each other. We have seen quite a lot of customers switching from Lloyds to Halifax, or Bank of Scotland to Halifax, and visa versa."
"The Lloyds Group brands are run in competition with each other"
RBI – How will Halifax market this and other campaigns like it in the future?
AW – "Customers treat switching account as a really big deal. As a consequence we have seen a large amount of people coming in to the bank to talk about switching, up to 80-90%.
"They want to talk about it face to face, they want to talk about the process, and they want to make sure their money is not going to get lost. We have more recently begun to invest in improving the online experience.
"Customers tend to use the online channel to research the deal before they buy. From each successive campaign we have run we see a little more coming in digitally. We expect to see that trend continue."
RBI – What is the final goal of this campaign?
AW – "We want to get people to switch their main current account. We have seen the market become more fragmented. We have seen customers creating secondary accounts to take advantage of offers and signing up for accounts solely for the offers.
"With the £100 offer combined with the fee free overdraft we hope to see people switching their direct debits and for the account they hold with Halifax becoming their primary bank account."
RBI – How is Halifax trying to position their brand?
AW – "We are positioning the brand to appeal on value, giving people extra, we were one of the first to reintroduce credit interest; we see the overdraft offer as continuing that commitment to value.
"We are looking to challenge on the basis of being simple and straight forward, which is very important to the brand. We are doing what we can to make things easier for our customers."
RBI – Is relationship pricing going to come into how Halifax competes on value?
AW – "On the whole, I don't think so. I see Halifax as a brand for the mass market. We are offering simple, straightforward things which people can tailor to their requirements.
"But on a pricing basis I see it as quite homogenous. There are exceptions for that, for overdrafts for example, on what you earn and your ability to repay you may get a different limit to everyone else."
"I think more people would switch accounts if we can make the online experience better"
RBI – Is Halifax trying to move away from using high street branches?
AW – "No, it's basically about giving customers more choice. Where we are at today, customers do not have enough information at their disposal online which forces them into a branch. I think more people would switch accounts if we can make the online experience better.
"But this doesn't mean the exit of the branch, far from it. We want to make sure the branch experiment is a good one. I think branches themselves will become far more digitally orientated than they are today."
"This doesn't mean the exit of the branch"
RBI – Does Halifax have plans to reduce its branch numbers as it spends and invests more in the digital channel?
AW – "No, there aren't any plans to cut the number of branches. Halifax is an interesting brand because we have far less branches than other brands, so we do have to work hard to ensure we compete effectively. It is more likely we will increase the number of branches in areas we have less coverage."
RBI – What is Halifax doing to prepare for the change in account switching regulation?
AW – "It's a change that Halifax and Lloyds Group as a whole have lobbied for some time. As a challenger Halifax was always trying to drive switching and encouraging customers to switch. We see ourselves as one of the main proponents of that.
"We have a big internal program set up which is trying to cooperate and deliver this with the rest of the industry and the payments council. It's a very large piece of work. At this point, towards the end of January, we begin a testing phase and work with other banks to make sure we are all comfortable and on track with what we have to deliver.
"We are thinking hard about what it will mean for customers in October when the new system comes in to play in October. We know customers switch accounts for a few reasons. You may be getting bad service, you may see a good deal like ours, or maybe it's just a better current account for you.
"There are then a few barriers that prevent customers from switching. The biggest one of these is the process. The vast majority of customers believe that the switching process doesn't work very well. They're worried about direct debits getting lost, being left out of pocket and that the whole process takes too long.
"We have found that this significantly puts people off. We know there might be some other things beyond that, having to change account numbers is one of these things. The portability of account numbers is a possibility and the regulator maybe considering this as a next step within the next two years, it's on the horizon.
"You should be able to move your bank account number as easily as your phone number"
"The ease you can move your phone number suggests you should be able to switch your account number as well. There is a perception that there isn't a strong differentiation on banks, but they are becoming more defined. It's very difficult to window shop a bank, people are worried they won't get the service they are used to when they switch.
"Online banking will become much more of a tool to advertise what it is like to use a different bank. A try before you buy option."
Halifax is a banking chain in the UK and a division of Bank of Scotland, itself a wholly owned subsidiary of Lloyds Banking Group. It is the UK's largest provider of residential mortgages and savings accounts.
Account switching regulations
Under current regulations switching a UK current account to another bank should be a simple process and the new account should be operational within ten working days of an application being approved. Different banks take varying amounts of time to approve an application but the whole process should take under 18 working days.
Once an application for a new account is approved direct debits and standing orders can be moved to the new bank account.
The bank where the account is being opened should ask the bank where the account is being closed for details of direct debits and standing orders within three working days.
This request should be completed within three working days of it being received.
The banks will agree a date to transfer the balance – but should not charge for making the transfer.
To help encourage customers to switch current accounts, one of the key recommendations made by the UK Independent Commission on Banking in 2011 was the establishment of a new current account switching service.
The Payments Council has committed to make bank account switching easier for customers.
The project's objectives include:
– Providing an account switching guarantee that customers can rely on;– Reducing the amount of time it takes to switch an account from around 18 days to seven working days, and– Automatically switching incoming payments to the new account.
Simpler account switching will increase further competition within the UK banking sector and improve transparency for customers. The Payments Council has committed to deliver this new service in September 2013.
Ernst & Young Global Consumer Banking Survey 2012 reported:
– Attrition rates have increased from 16% in 2010, to 35% in 2011, to 41% in 2012;– Among those who switched banks, 48% changed due to high fees, and 35% due to poor branch experience;– 44% of customers use one banking provider, compared with 50% in 2011;– The number of those customers with three or more accounts has increased from 16% in 2011 to 19% in 2012;– 37% of customers multi-bank to obtain the best rates and fees and,– 17% of customers want their bank to improve its fees and charging structures.