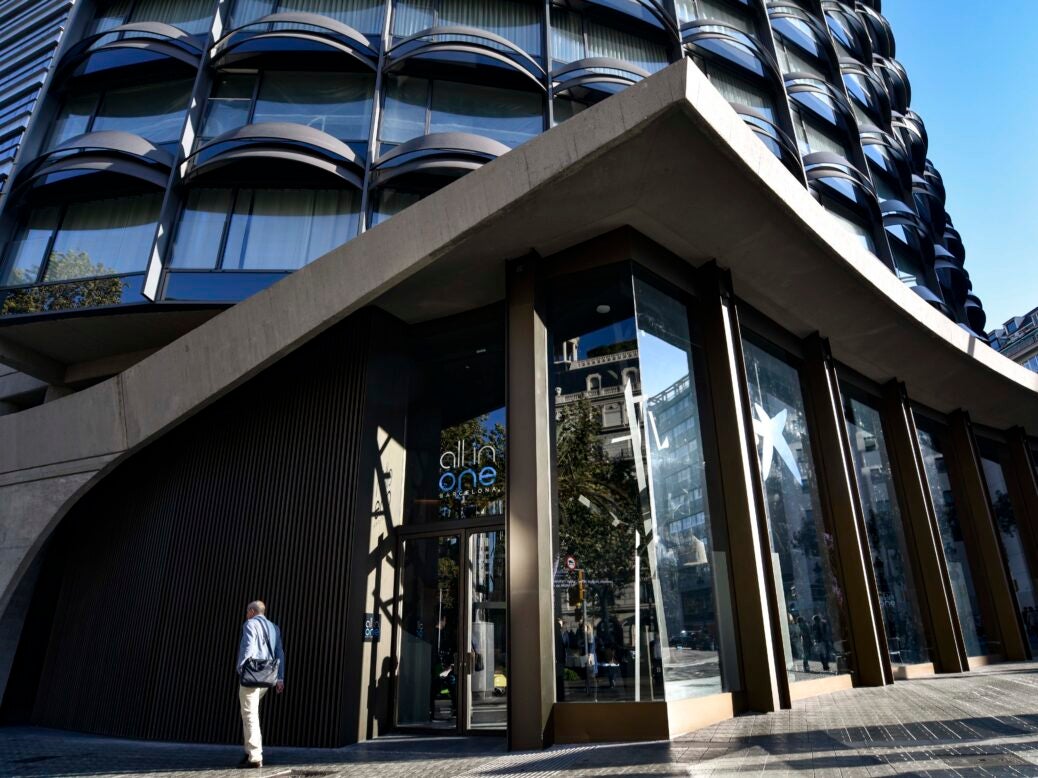 CaixaBank is continuing its mission to undergo technological transformation by opening a new "all in one" branch in Barcelona. This comes as banks are under increasing pressure to adapt to the new digital age. Evie Rusman writes
Following the opening of its first "all in one" Valencia branch in July, CaixaBank has expanded this service to Barcelona. The new branch is the Spanish bank's flagship hub, covering 3,000 square metres over three floors.
CaixaBank's all in one Barcelona branch is located in the Francesc Macià square, in one of the city's Bauhaus-style buildings. According to the bank, the new hub is Europe's largest financial experience hub, offering specialised attention for both individuals and for self-employed workers and micro-enterprises and companies.
The space includes specific areas for attending a variety of customers, a café, an auditorium, more than 30 offices for private meetings and technology-based services such as ATMs with facial recognition. There are also self-check-in machines to identify customers and let advisors know they have arrived.
In total, the hub is manned by 80 employees, servicing a portfolio of 22,000 customers. It was officially opened on November 6.
Design and technology
The idea of the "all in one" branch is to intertwine new technology with traditional banking practices in order to innovate the customer experience.
Juan Antonio Alcaraz, CaixaBank's managing director, says: "CaixaBank has once again decided to promote innovation in the physical channel, after becoming the first company to begin the transformation of traditional bank branches in 2013 by designing the Store branch, which over the years have become the standard for the entire sector.
"We have united design, technology and customer knowledge to create an absolutely exclusive model. In terms of surface area, "all in one" is the largest flagship banking hub in Europe. In terms of customer experience quality, we want it to be the best."
CaixaBank's self-check-in system is designed using NFC, meaning customers only need to tap their mobile on a device located at the entrance of the branch so the system can identify them. Then, the assigned adviser will receive them.
In addition, via CaixaBankNow, customers can access a notifications system on their mobile that reminds them of their appointment and invites them to confirm it or change it.
The entrance to the hub features surround screens installed, and CaixaBank has created specific content designed to welcome customers with natural landscapes images.
However, the most exciting piece of technology is probably the bank's ATMs which include facial recognition technology. This development recently received The Banker award for being one of the year's best technological projects in the financial sector.
Innovation of bank branches
Earlier this year, CaixaBank opened its first "all in one" branch in Valencia, in a 2,200 square-metre space located in the city's City Hall Plaza. This new series of bank branches is part of the bank's wider goal of committing to a physical channel.
CaixaBank has also opted for innovation in its physical spaces with ImaginCafé. This space occupies 1,200 square metres and is inspired by the values of the imaginBank brand, the mobile-only bank created by CaixaBank for young people.
"all in one" Barcelona will also have a monthly programme of discussions, lectures, round tables and events on all topics of interest. These are open to anyone interested, whether a CaixaBank customer or not.
This initiative, called CaixaBank Talks, will typically take place in the agora space, an auditorium that holds around one hundred spectators and is equipped with the latest audiovisual technologies, as the different events will be available for streaming online.
Maria Alsina, territorial director of CaixaBank Barcelona, says: "This hub wants to be far more than a branch, but somewhere where all businesses converge. It is aimed at all types of customers and not only offers the best financial services, but also gastronomic and other valuable content. It will be open to the entire city. "all in one" was born at the service of CaixaBank's customers, but also at the service of Barcelona."