Opinion
Cloud banking can save costs and ease scalability
Cloud banking and computing solutions have been playing a significant role in the retail banking sector in shaping the banking journey from recuperating client relationships to achieving cost reduction.
The retail banking sector is expected to gain various benefits from cloud computing solutions; as a result, it has become an integral part of many retail banks' IT strategies. Among the cloud computing solutions, IaaS is expected to gain traction in 2017, with 77% of respondents using this solution in 2016, and 69% of respondents planning to invest in this domain in next two years, in order to avoid large capital expenditure relating to data centers and infrastructure.
Furthermore, in terms of cloud deployment models, the highest proportion (68%) of respondents is currently using a hybrid cloud, as it is the only cloud implementation model that can provide banks with the benefits of both public and private cloud.
In addition, GlobalData expects hybrid cloud to gain traction in 2017, as retail banks can use the flexibility of hybrid cloud to move seamlessly between the two cloud models, based on their data security requirements.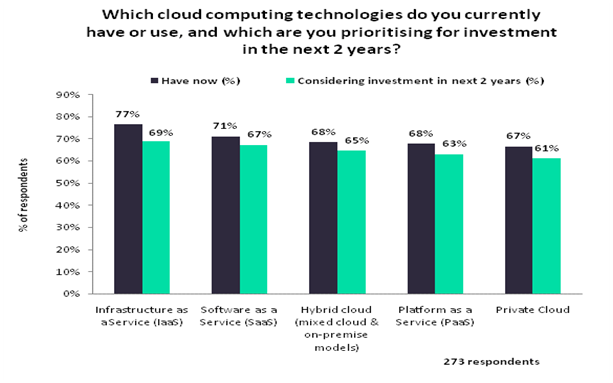 Supporting this notion, the survey confirms that 67% of respondents are currently using private cloud solutions. This is attributed to banks being skeptical about entrusting their sensitive customer and financial data to third-party public cloud providers.
The survey also finds that 61% of respondents plan to invest in private cloud over the next two years, to have complete control of their core banking processes.